PUNK A PHOTOGRAPHIC JOURNEY: 2004 - 2007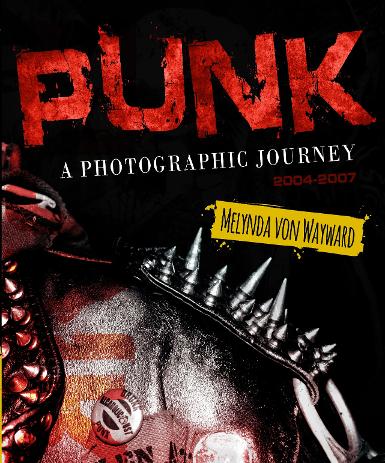 'Punk a Photographic Journey: 2004 - 2007' is a photographic book that captures and celebrates the colour, style and attitude of the contemporary

Melbourne

(

Australia

) punk scene.

Take a look inside and see gravity defying hairdos, handcrafted studded jackets, vibrant clothing and the anti-social attitude that goes hand in hand with being a punk.

All of the images were taken by Melynda von Wayward at events like the infamous 'Punk Pub Crawl' and other punk gigs around Melbourne between the years 2004 - 2007

"As a subculture punk has always been more than just a fashion statement. To those in the scene it is an attitude, a way of life, a reason to get out of bed in the morning, a supreme form of self-expression, a raison d'etre." (Melynda von Wayward)
This book is for sale HERE
Here is an article about my book in I.D Mag

In 2008 I held a solo photographic exhibition at Gasworks Arts Park as part of the Fringe Festival. This is the Media coverage that I received.
In 2009 I also assisted Channel 10 with their documentary 'City Fringe'. I was not only interviewed about the contemporary Melbourne punk scene, but several of my photos were also featured in this documentary as well. Watch an excerpt HERE
"City Fringe" Punk, Goth, Rock & Metal, decades old now reinvented & still popular. City Fringe discovers why people gravitate to certain music or styles, political views or social scenes & the unwritten codes determining how a person achieves and maintains acceptance.