The definition of a 'fanzine' (the amalgamation of the words 'fan' and 'magazine' or 'zine') is a non-professional and non-official publication produced by fans of a particular cultural phenomenon for the pleasure of others who share their interest. Typically, publishers, editors and contributors of articles or illustrations to fanzines receive no financial compensation. Fanzines are traditionally circulated free of charge, or for a nominal cost to cover postage or production expenses. Copies are often offered in exchange for similar publications, or for contributions of art, articles, or letters of comment (LoCs), which are then published.
When punk exploded into the mainstream culture in 1976/77 the mainstream media could not accurately speak for punk, and punk could not represent itself through the mainstream media without radically compromising its own nature. Misrepresentation was inevitable because of the particular nature of the movement. So instead of consuming the culture that was 'made for them', the individuals who were expressing and living the punk subculture rebelled against established forms of expression and consumption by making their own fanzines.
Sniffin' Glue, the first official punk fanzine, was produced by Mark Perry in July 1976 a few days after seeing US Punk band Ramones for the first time at the Roundhouse in London. Taken from the title of a Ramones song 'Now I Wanna Sniff Some Glue', Perry's fanzine was the perfect punk form. It reported the moment immediately as it happened, reporting it from an insider's point of view. Because Perry used everyday tools that were immediately to hand, Sniffin' Glue fit with the do-it-yourself (DIY) ethos which was already an important part of punk culture.
A flood of punk zines followed with identifiable cut and paste graphics, typewritten or felt tip text, misspellings and crossings out. Photocopying also contributed to the punk zine look by limiting graphic experimentation to black and white tones and imagery based on collage, enlargement and reduction. Sniffin' Glue demonstrated that anyone could easily, cheaply and quickly produce a fanzine.
Many of the punk zines were printed in small quantities and promoted the local scene. Each copy however, was shared by up to 30 people who would pass it on from friend to friend. They were often cheaply photocopied and many never survived beyond a few issues. Their greatest contribution was in promoting punk music, clothing and lifestyle in their local communities. Punk bands and independent labels often sent records to the zines for review and many of the people who started the zines became critical connections for punk bands on tour.
Punk zines not only looked DIY, but they also encouraged its ethic in all areas. Sideburns, another zine (1977), printed diagrams of guitar chords A, E and G ("This is a chord. This is another. This is a third. Now form a band.") and Sniffin' Glue told its readers: "Don't be satisfied with what we write. Go out and start your own fanzine".
Jon Savage, inspired by Sniffin' Glue, produced London's Outrage at the end of November 1976 after seeing The Clash and the Sex Pistols live. He produced it in two days and took the name from an existing Sex Pistols' flier, which he converted for the front cover.
In New York John Holmstrom and Legs McNeill published Punk magazine in 1976 which played a major part in popularizing 'punk rock' as the term for the music and the bands being written about; while Flipside and Slash were important punk zines for the Los Angeles scene, both debuting in 1977.
But while the first wave of the British punk movement may have started to decline by 1977, just as mainstream record companies, venues and media began to embrace it, in Melbourne and the rest of Australia things were just beginning to heat up, with Australian punk fans producing and distributing their own fanzines in their respective major cities.
Pulp:

Brisbane's Suicide Alley is recorded to be the first Australian fanzine, put together by Clinton Walker and Andrew McMillan, while Melbourne's first local fanzine, Plastered Press, was created by Bruce Milne in 1977, though it only lasted for one issue. Walker and Milne soon began to correspond and agreed to work together on a new fanzine, Pulp, that split the focus between Melbourne and Brisbane. Copies were sold through punk/new wave import stores, which were springing up in each capital city around this time.
"Because there wasn't really information about what was going on in Australia at the time, we started selling a lot of copies. I think by the end we were selling over a thousand copies an issue." (Bruce Milne)
3 issues of Pulp were issued through 1977/78 (the third was a double issue numbered 3/4) and for Issue 5 Milne planned to include a flexi-disc by local Melbourne punk band News. Milne had had a relationship with the members of News pre-dating their days as Babeez, having been in various party bands with them in the nascent Melbourne punk scene. Around March 1978 the band thus recorded two of their songs at the Faraday St house they used as band base and recording studio. Then things went cold. In April, while putting together their first actual release - the 'Dirty Lies' 7", Milne told them the zine wouldn't be published.
Clinton Walker elaborated:
"...A fifth was almost completed when the concept folded early in 1978. Roadrunner magazine had been started in Adelaide, and we got involved doing what we could for them in Melbourne. But we both harboured an ambition to put out Pulp 5 somehow, sooner or later. It was a matter of finding a couple of hundred dollars which, of course, we couldn't."
News put together a 'Pulp Benefit' at Bernhardts on 30th April 1978, "a six-hour spectacular including News, Young Charlatans, Boys Next Door, Two Way Garden, Fiction, and Spivs. An epic show, but for some reason or other, it didn't resuscitate the ailing Pulp". Eventually 'Pulp 5' saw light as the book Inner City Sound, written by Clinton Walker in 2006.

As the punk movement gradually became the 'post-punk' movement, new concepts of fanzines started to emerge and for a few weeks in the early 1980s the world saw a cassette magazine explosion - the British pop magazine Mix, and the Pacific north west's Sub Pop which alternated cassette and print editions, for instance, and which later became the famous record label.
Fast Forward:
Likewise in Melbourne the Fast Forward cassette magazine was being created in 1980. The innovative brainchild of Bruce Milne and Andrew Maine, alongside designer Michael Trudgeon, Fast Forward was a bi-monthly audio magazine that documented the post-punk scene of the early 1980s and helped spread sounds and ideas among music communities. The tapes interspersed interviews with music and were packaged with printed artwork in a soft case and distributed through record shops.
Maine and Milne were 3RRRFM presenters who had access to material via radio and Milne's Au Go Go/Missing Link connections, as well as the mere fact they were known about town. They had planned a magazine with a flexi-disc, until they heard that EMI's standard procedure for unsold pre-recorded cassettes was to bulk erase them and sell them on. The early Fast Forwards had new labels stuck over reused pre-recorded cassettes, and the temporary or makeshift nature of them was part of the appeal.

Maine and Milne were producing what was effectively a purchasable radio show (not a 'compilation album' as some have termed it; interviews and other spoken word material were integral to the content) in packaging which began with a simple one-piece 'cover' in a plastic bag, to a silk-screened wallet with various leaflets and booklets in its various pockets. The music on the various Fast Forwards was largely of its time and more often than not, marvellous but not exclusively local. It would feature music from anywhere, the prime criteria being the editors' taste, and the proviso that it had not (yet) been released on vinyl.
Fast Forward ran to 13 issues between November 1980 and October 1982, with Maine and Milne ultimately falling out: Maine alone went on to relaunch Fast Forward as the disastrous, Trendy Crowd, a magazine-with-cassette which became print-only with its second issue and disappeared after the third.
Click HERE to access the entire Fast Forward collection, which has been catalogued by Spill Label

Interview with Bruce Milne & Andrew Maine - Fast Forward, Issue 2, 1980 - Source: Spill Label

NMA:

Taking over from Fast Forward was NMA (New Music Articles) formed with Richard Vella in 1982. The magazine's aim was to encourage musicians, composers and sound artists to write about their work as a way of informing the general public, while creating wider musical debate. Each issue was also accompanied by a cassette featuring a varied cross-section of experimental, electronic and new music from Australia produced over this period. Ten issues of NMA Magazine were published in total, with a download of each being available through Shame File Music.
Another fanzine that emerged in 1982 was Distant Violins, created by David Nichols. An idiosyncratic collection of hand-drawn headlines and cut-and-paste stories, with Issue number 1 costing 50 cents and selling 20 copies in its first week. Later the price would go up to $1 a copy. Distant Violins published off-the-cuff interviews with post-punk groups like The Birthday Party, Plays with Marionettes and People With Chairs Up Their Noses, as well as comics, correspondence and mail-order catalogues. Nichols would later go on to write a book called Pop Life, as well as a book about Brisbane band The Go Betweens.
"I was a two-finger typist then and I would laboriously bash out these columns of print and shrink them on the photocopier to 50 percent, and then lay them out badly. There were all these typos in there. I'd do a run of 20, and then someone would say, 'Oh, you've mixed up column two and column three the wrong way around on page seven',and so I'd fix it for the next run of 20. It was amazing how many people were happy to talk to me. I had some really great interviews early on. I can't remember anybody ever saying no to a request." (David Nichols)
Hardcore Fanzines:
As 'punk' and 'post-punk' made way for 'hardcore punk', with its more aggressive music and image, the continuation of the DIY punk ethos, together with a newfound political agenda, was about to pave the way for a punk fanzine explosion like no other. Political and social issues of the day, as well as punk themes, band interviews and record news were featured strongly in the many Melbourne punk fanzines that were produced between 1981 - 1987.
DNA:
One of the vanguards of the punk fanzine movement is DNA. Created by Adelaide based Harry Butler in 1979, DNA spent its early days covering new Australian punk bands such as The Sputniks, The U-Bombs, The Saints, JAB, La Femme, Slugfuckers, Radio Birdman and The Scientists, as well as overseas bands like The Stooges, Siouxsie & The Banshees, New York Dolls and X-Ray Spex.
However Butler's extensive involvement covering bands from the Melbourne hardcore punk scene, such as Depression, Murder Murder Suicide, Civil Dissident, I Spit on Your Gravy, Permanent Damage, Death Sentence and Vicious Circle, saw DNA become a pivotal fanzine throughout the mid to late 1980s. Specialising in creating band 'Family Trees', DNA has no doubt traced and recorded the entire lineage and origins of the Australian punk music scene.
Regression:
Another important hardcore punk fanzine is Regression. Created in 1982 by Zol Szacsuri & Alby Brovedani (Vicious Circle), eleven issues ran from 1982 - 1984, as well as one issue of another fanzine called Decline which Zol created on his own in 1983. As with all good punk fanzines Regression was a little rough, with spelling and grammatical errors. The quality of the end product varied due to the type of photocopiers that could be accessed, either for free or for a fee.
The articles ranged from band interviews to reviews, as well as regular features such as 'The Funnies' and 'Can't Stop the Regress'. Content was either typed or hand written and there was a lot of cutting and pasting. It was always meant to be what it was - a collection of thoughts and the many influences on two guys involved in a very exciting time for punk.
"Welcome to issue No. 1 of REGRESSION. the name Regression was chosen because it means backward movement or relapse, which describes what is happening in these troubled times around the world. We have a look at bands with something to say from the Punk movement. Regular features in REGRESSION will include new Punk and old Punk in which we will have three bands from each, and a graffiti page in which we look at graffiti in different parts of Melbourne. The first issue is just our interests and thoughts on different bands." (Zol & Alby - Regression)
Below is an extensive list of punk fanzines that were published between 1981-1987, compiled by Scotti from 'Resistant Harmony' fanzine.

Click on the link to view the FULL version of the fanzine or newsletter

Aliens Mutants Senseless Violence, Breakout, Black and Blue, Black Torch, Consumer Junk, Decline, Death Rides a Pale Cow, Deviant Stance, Editorial Chaos, End Result, Family Slaughterhouse, Fatal Vision, Forms of Human Expression, From The Vault, Frontline, Greedy and Pathetic, Independence, Institionalized, Invictus Pax, Man Cannot Live on Eno Alone, McMosshead, Object Dismembered, Ollie On Over, Pallative Treatment, Perfect Transition, Portobello Market, Post- Mortem, Print, Punk Purge, Regression, Reject, Resistant Harmony, Sick And Tired, Soft Option, Stone the Flamin' Crows, Stuff, Subvert Press, The Frontline, The Livin' End, The Six Million Dollar Mullet Punk Pub Crawl Photozine, The Rage, Thrashout (became Crashed-Out), Treason, Tribal Atrocities, Uncool, Work Consume Die, Zoom.
"With the smothering of fanzine covering of late in the mainstream media I think it's important to know that folk in Australia have been churning out anti-social, music-focused, fan-fired independent press of the punk/high energy rock'n'roll persuasion since the mid 70's - and these documents - usually printed in numbers around 50-100 are truly awe-inspiring & valuable time capsules in seeing how the music underground was shaped and formed & these things must be recognized dammit." (Scotti - Resistant Harmony fanzine)
Fanzine highlights
1982 - 1987:
Punk Purge (

1981)

-

Published

by the 11-12 year old Tim Hemensley (

Royal Flush,

GOD

)

Zoom (1982) - A cassette fanzine published by Julian Wu and Adam Duncan

Portobello Market (1982) - A fanzine named after the famous UK market on Portobello Road, put together by Anita Del Medico, Sandra Rigon, & Kelly Flynn

Refuse to Die and The Hype Report (1982) - Band fanzines put together by The Editions
The Six Million Dollar Mullet Punk Pub Crawl Photozine (1983) - Published by 'Fuckeye' (Maureen O'Brien) and 'Dinto' (Paul Hastie)

Man Cannot Live on Eno Alone (

1984)

- Published by a very young Joel Silbersher (GOD) and

c

reated under the alias name 'Steev Stake'

Perfect Transition (1984) - A Punk/skate fanzine published by David

Ross (Civil Dissident) and Paul Postma


Band members from

Civil Dissident

also published

Object Dismembered

(1985)

Pallative Treatment (1986) - Published by Geoff Simmons (Human Waste, Extremes) was full of punk rock documentation
Forms of Human Expression (1986) - A booklet full of drawings, poetry, literature and bands, published by Melbourne punk artist 'Dognest'.
Fanzines such as Editorial Chaos (1981), Black Torch (1983), Tribal Atrocities (1984), and Black and Blue (1987) focused on anarchy
Institionalized, The Livin' End, Independence and Post-Mortem all hailed from Geelong

Several fanzine style song books also came out with cassette and EP releases. These included The Editions with Aggression (1981), Obsession (1982) and Recession (1983), End Result (1983), Civil Dissident (1984), I Spit on your Gravy with Suck This Fred Nile (1985) and Stone the Flamin' Crows (1986)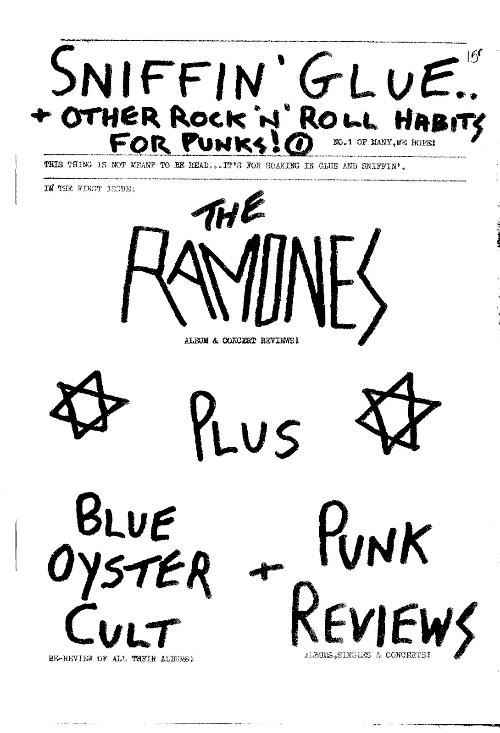 Sniffin' Glue fanzine, 1976 - Source: Wikipedia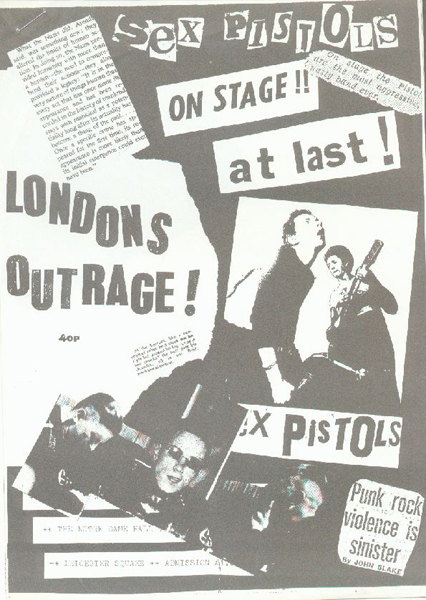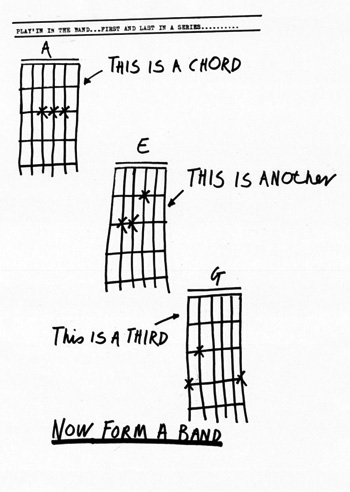 Sideburns fanzine, 1977 - Source:
TV Ropes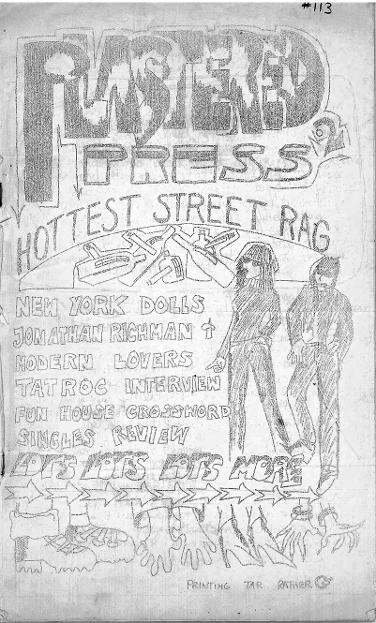 Plastered Press, Issue 1, 1977* - Source: Scotti Henthorn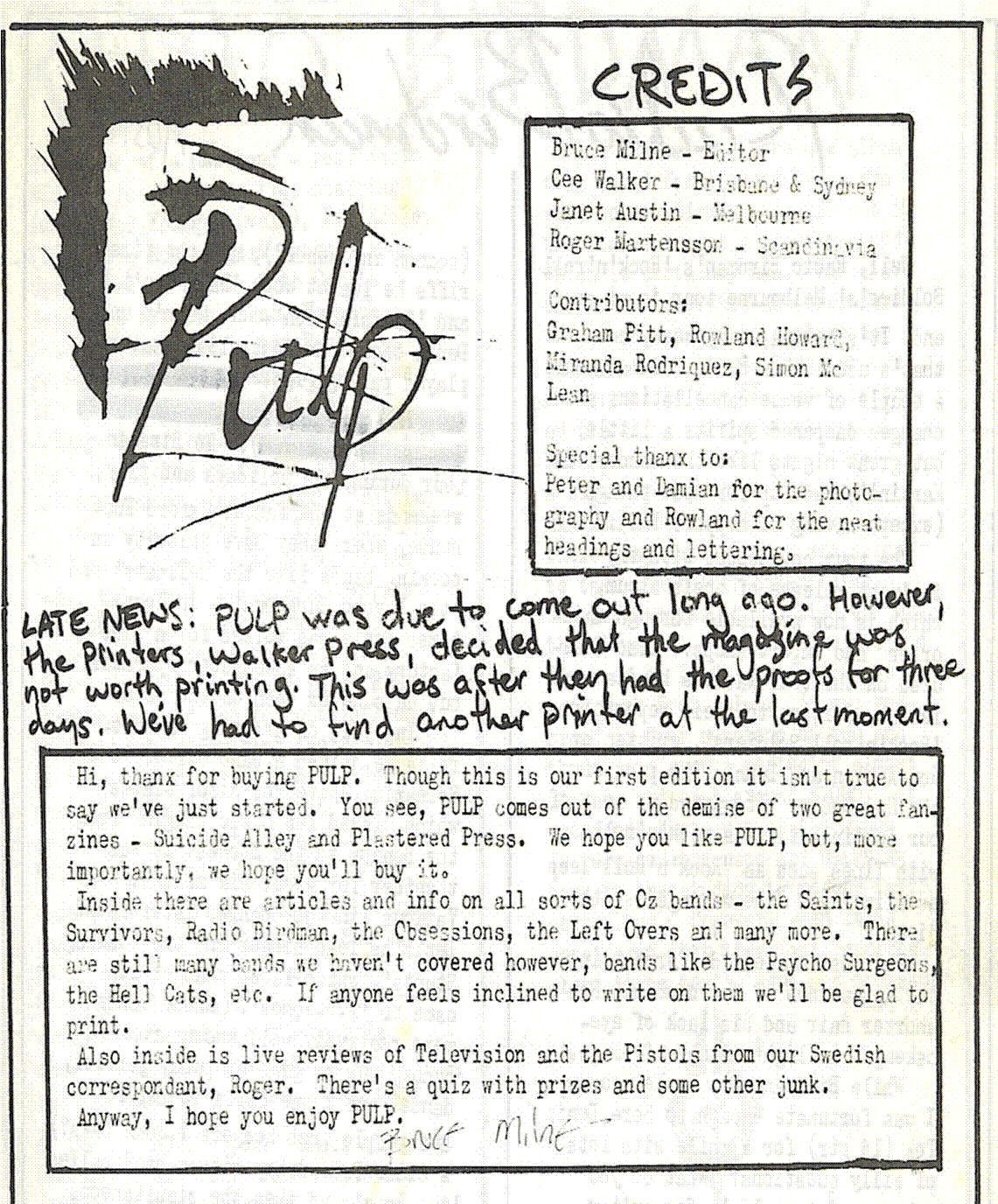 Pulp fanzine credits, Issue 1, 1977 - Source: Bruce Milne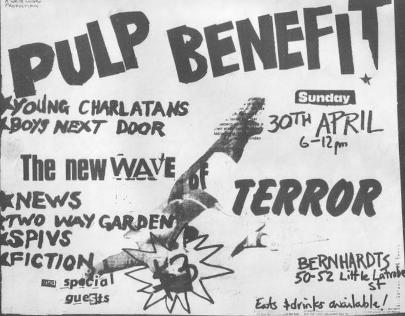 Pulp Benefit poster 1978 - Source: Rob Griffiths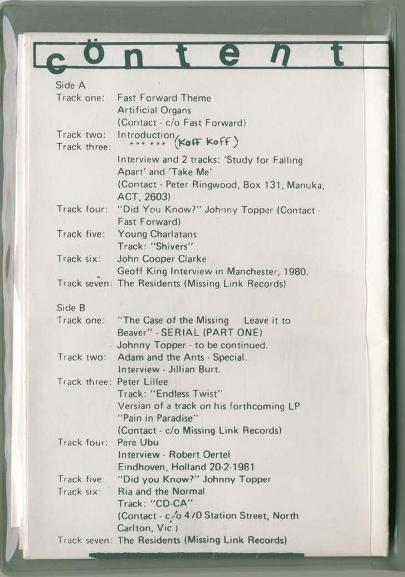 Fast Forward content page, Issue 4, 1981 - Source: Spill Label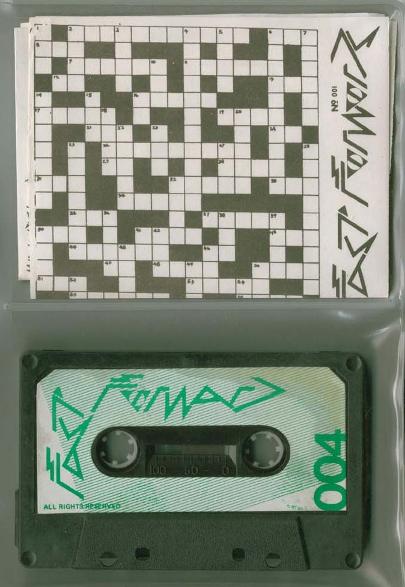 Fast Forward inside, Issue 4, 1981 - Source:
Spill Label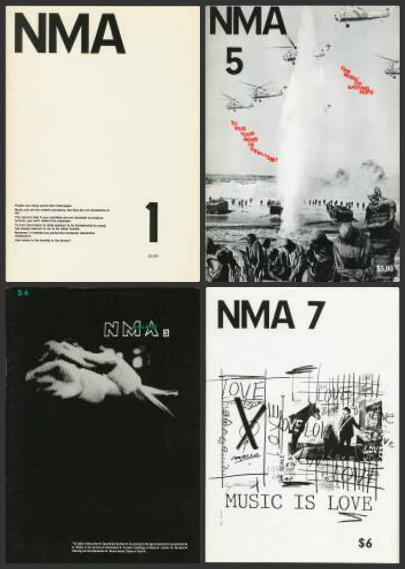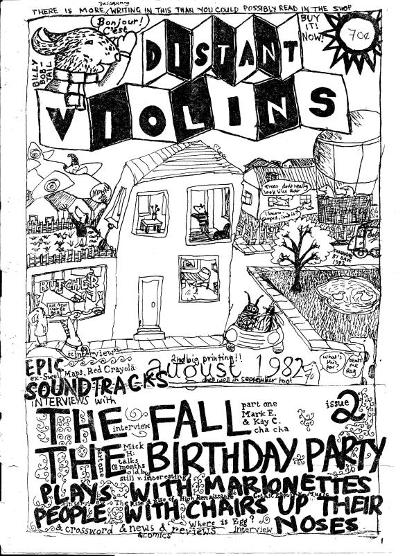 Distant Violins, Issue 2, 1982 - Source:
Toytown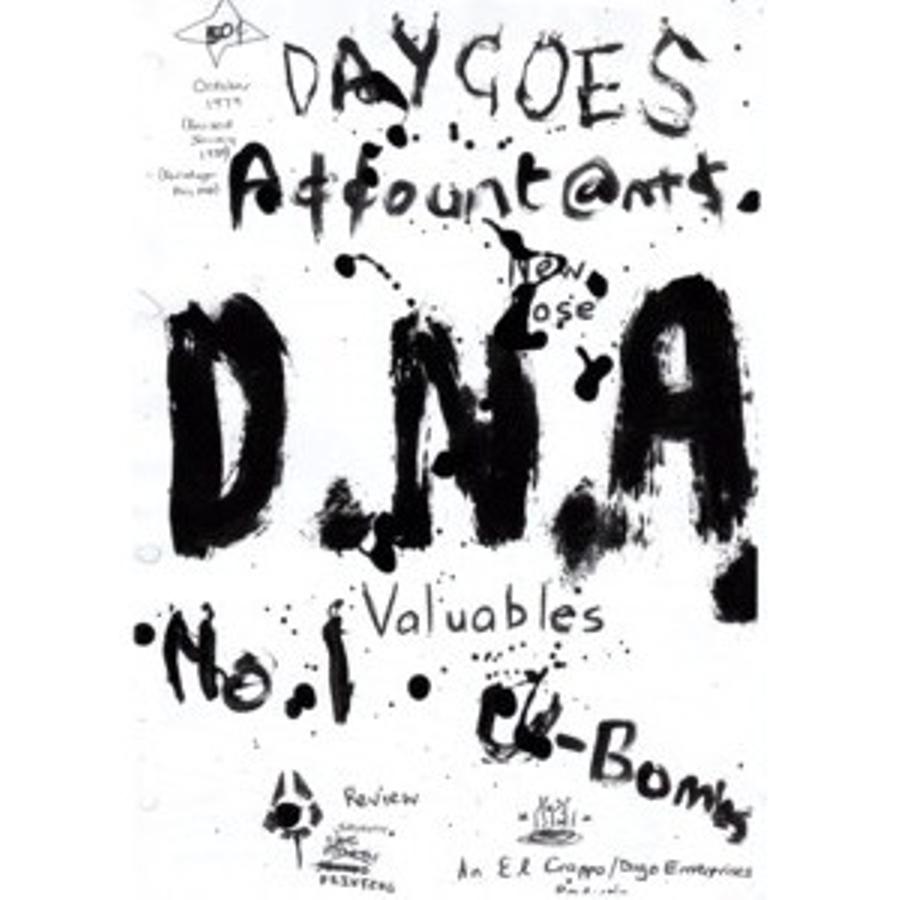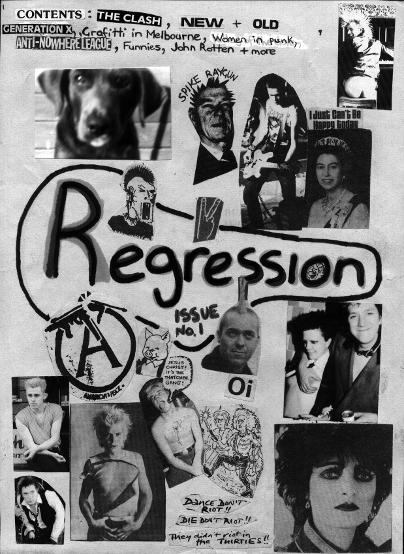 Regression fanzine, Issue 1, 1982 - Source: Zol
Szacsuri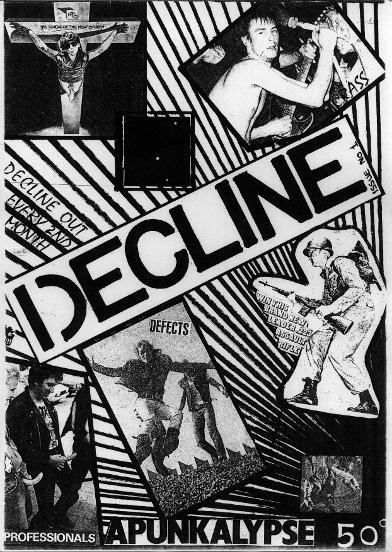 Decline fanzine, Issue 1, 1983 - Source: Zol
Szacsuri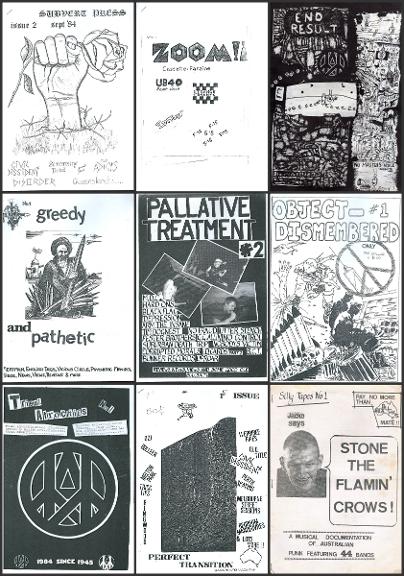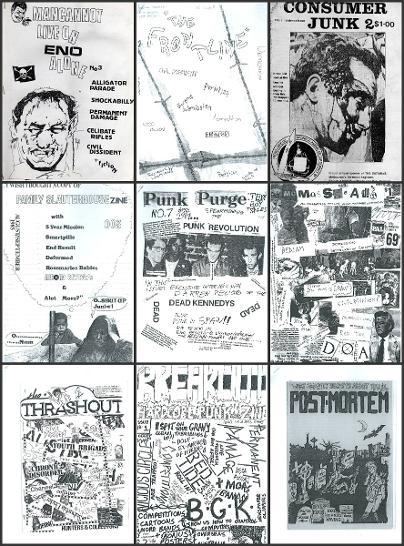 Punk fanzine covers, 1982-1987 - Source: Simon Butcher

Other fanzines and newsletters that also came out between 1977 and the early 1980s:
The New music newspaper in 1977 was edited by Warren Burt and Les Gilbert. Issues 1-3 called attention to "The enormous amount of new music in Melbourne."
The Alternative Animal was a publication created in 1977/78 by a club called 'Alternative Animals' who were based at the Preston Institute of Technology.

The one off North Fitzroy Beat created in 1980 by Alan Bamford focused purely on the Little Bands sub-scene.

The New Music magazine in 1980, created by David Chesworth & Philip Brophy, was the only way to find out about what was happening in experimental music, film and video. Issues 1-6 contained reviews, interviews and a bounty of conflicting ideas, theories and viewpoints.

Dag Mag

in 1980 by Jim Buck and Terence Shannon. With 20 issues in total this zine

demanded "

You think and express for yourself.

"
The one-page Newsgossip sheets created in 1981 let people know about the many gigs at the various venues around town.
Stuff in 1983 by

→ ↑ → was a bi-monthly magazine on the writing of

culture.
Forms of Human Expression - A one issue punkoid 'zine specialising in graphic art and visual representations of important issues.
Images:
How to make a fanzine - Source: Required

Background Image -

Pulp fanzine, Issue 1, 1977 - Source: Bruce Milne

Resistant Harmony fanzine, Issue 1, 1987 - Source: Simon Butcher

Sniffin' Glue fanzine, 1976 - Source: Wikipedia
Outrage Fanzine, 1976 - Source: 3am Magazine

Sideburns Fanzine, 1977 - Source: TV Ropes

Plastered Press, Issue 1, 1977* - Source: Scotti Henthorn - * Although it says Volume 1, Number 2, this is, in fact, the only issue that was ever produced
Pulp Fanzine, Issue 1, 1976 - Source: Bruce Milne
Pulp Benefit poster, 1978 - Source: Rob Griffiths

Fast Forward, Issue 4, 1981 - Source:

Spill Label
NMA Tape Magazines - Source: Rainer Linz
Distant Violins, issue 2 1982 - Source: Toytown
DNA fanzine, Issue 1, 1979 - Source: Oz Music Books
Regression fanzine, Issue 1, 1982 - Source: Zol

Szacsuri

Decline fanzine, Issue 1, 1983 - Source: Zol

Szacsuri

Fanzine covers published between 1981-1987 - Source: Simon Butcher
MP3 Track:
Interview with Bruce Milne & Andrew Maine - Issue 2, 1980 - Source: Spill Label
Publications and PDF:
Video:
A feature on Australian Fanzines, screened on Attitude (ABC) c. 1997
Quotes:
Bruce Milne - Source: Langdon, Morgan (2008), Missing Link Records and the Emergence of Melbourne's Independent Music Scene, LaTrobe University, Australia
Clinton Walker - Source: Wallaby Beat
David Nichols - Source: David Nichols

Zol & Alby - Source: Regression fanzine, Issue 1, 1982

Scotti - Source: Resistant Harmony fanzine, Issue 7, 1995
Websites: