PUNK JOURNEY: ST KILDA + BEYOND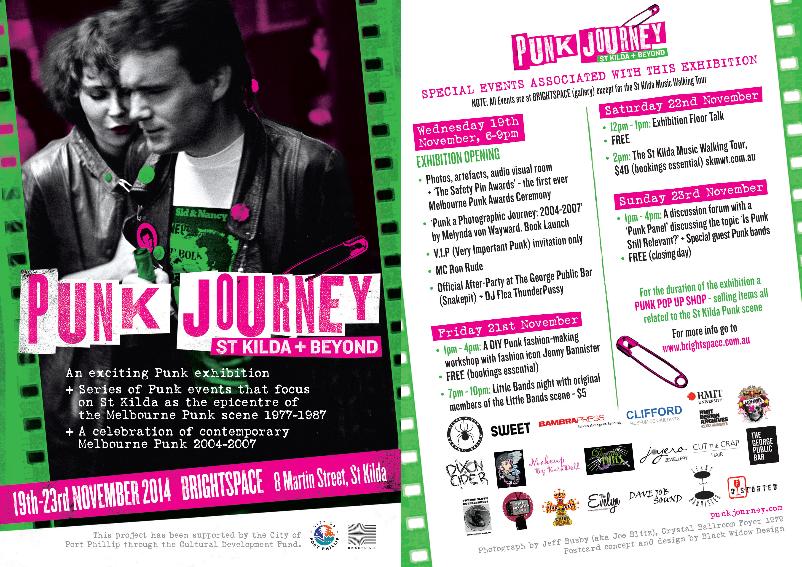 Punk Journey: St Kilda + Beyond Exhibition flier 2017 - Courtesy of Melynda von Wayward
From the 19th-23rd November 2014, BRIGHTSPACE (gallery) in St Kilda presented 'Punk Journey: St Kilda + Beyond' - an exciting and all–encompassing Punk Exhibition and series of Punk events.
With a strong focus on St Kilda as the historical epicentre of the vibrant Melbourne Punk scene 1977-1987, as well as a celebration of contemporary Melbourne Punk 2004-2007, this unique and high calibre exhibition was coordinated by Punk historian and Photographer Melynda von Wayward.

An audio visual menagerie combined with authentic Punk artefacts, photos and historical information helped to create a high calibre exhibition that reflected the counter-culture and anti-establishment imagery of Melbourne Punk, while simultaneously juxtaposing the 'Now and Then' aesthetics of the Melbourne Punk subculture.
Brightspace - 8 Martin St, St Kilda
P: 9593 9366 / W: www.brightspace.com.au

This project was supported by the City of Port Phillip through the Cultural Development Fund
Timeline & Special Events associated with this exhibition:

Wednesday November 19th
:
6-9pm:

Exhibition opens with photos, artefacts, Av Room, & The 'Safety Pin Awards' - Melbourne's first ever Punk awards ceremony

'Punk a Photographic Journey' book launch

MC Ron Rude

Official after Party – George Public Bar (Snakepit) + DJs Matt Meister and Grotfink

Friday November

21st:
1-4pm:

A DIY Punk fashion making workshop with fashion icon Jenny Bannister

7-10pm: Little Bands night with original members of the LB scene

November 22nd:

12-1pm: Floor talk with the exhibition coordinator - Melynd von Wayward



2pm: The St Kilda Music Walking Tour with a special focus on St Kilda Punk, including special guests Dolores San Miguel (author of 'The Ballroom') and Paul Elliott – former owner of Polyester Books

November 23rd:

1-5pm:

A

discussion forum on the 'Now and Then of Punk', consisting of a local 'Punk Panel' and a guest adjudicator all the way from the UK

with special guest Punk bands (Dixon Cider and The Peptides) + closing day drinks!

View more footage from the exhibition HERE - including speeches, the Safety Pin Awards and bands!

PRINT MEDIA:
Port Philip Leader
St Kilda News
Beat Magazine
The Music
RADIO:
Photos by Liz Ham, Timothy Treasure, Sam Tabone, Mark Bakaitis and Vanessa Allen