PEOPLE WITH CHAIRS UP THEIR NOSES
Forming in early 1981 People with Chairs up their Noses were a Post-Punk Art Noise group who emerged out the Little Bands Scene. They played a lot of gigs at the Tote Hotel, Crystal Ballroom & The Jump Club, where they gained some notoriety for supporting profile acts (Hunters & Collectors, Swingers, Dugites, The Church, etc). Also known for their junk percussion (letterbox, oil cans, bottles) it is believed they inspired Hunters & Collectors to include a gas tank in Greg Perano's kit.

Peter Rippon was pushed out of the band early on when were able to poach Jim White from The Happy Orphans. Mark Barry was the next to leave in 1982 and the Bass position was replaced by Bevan Smith on keyboards, but he didn't work out so the band may have done some gigs as a 3-piece. Malcolm Hill (Buick KBT) also played bass for a couple of gigs (Sydney). Nick Barker was conscripted briefly to play bass for 2 gigs (Adelaide). The band broke up later in 1983.

There was 1 vinyl release on Au Go Go Records: 'The New Band'/'Road to Egg' (co-release with Plays With Marionettes), and in 1981 on the Fast Forward Cassette Magazine issue 008/009, 2 songs: 'Leave Home'/'Go To Jail'. 1 song, 'Song Of The Sea', was also released on the 'Can't Stop It' compilation CD (2001, volume 1, Chapter Records)
People with Chairs up their Noses line-up included: David Palliser - Vocals/Sax, Jim Shugg - Guitar/Vocals, Jim White - Percussion, Mark Barry - Bass/Vocals, Peter Rippon - Percussion (1981), Bevan Smith - Keyboards (1982), Nick Barker - Bass (1983).

David Palliser still performs improvisational music and has released a solo CD. Jim Shugg formed the Feral Dinosaurs. Jim White joined Venom P Stinger & later formed The Dirty Three. Mark Barry moved on to live sound mixing. Pete Rippon is also a sound engineer. Bevan appeared from nowhere and nobody knows where he went. Nick Barker left as quick as he could, formed The Reptiles.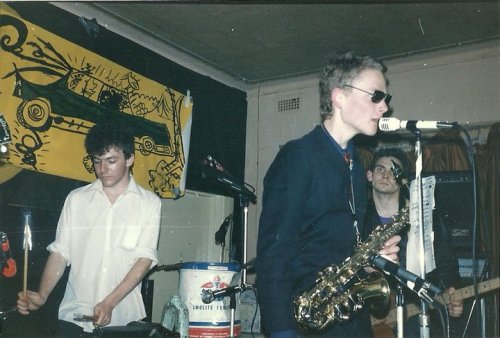 People with Chairs up their Noses 1981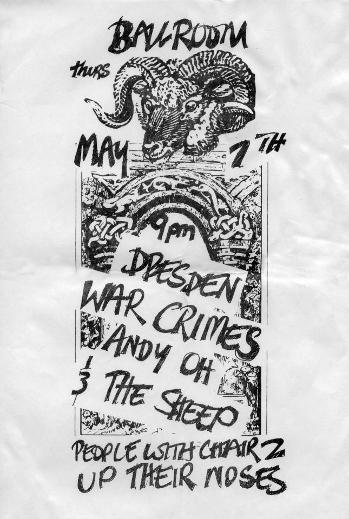 People with Chairs up their Noses - Leave Home.mp3