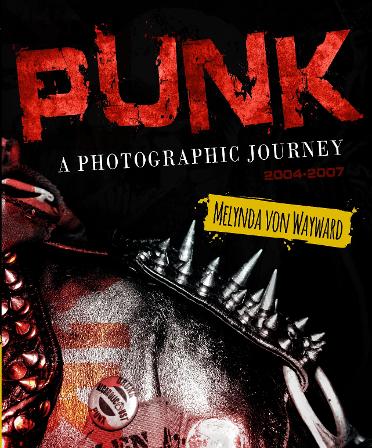 Punk a Photographic Journey: 2004 - 2007 is a photographic book that captures and celebrates the colour, style and attitude of the contemporary

Melbourne

(

Australia

) punk scene.

Take a look inside and see gravity defying hairdos, handcrafted studded jackets, vibrant clothing and the anti-social attitude that goes hand in hand with being a punk.

All of the images were taken by Melynda von Wayward at events like the infamous 'Melbourne Punk Pub Crawl' and other punk gigs around Melbourne between the years 2004 - 2007

"As a subculture punk has always been more than just a fashion statement. To those in the scene it is an attitude, a way of life, a reason to get out of bed in the morning, a supreme form of self-expression, a raison d'etre." (Melynda von Wayward)
In 2008, Melynda held a punk fundraiser at The Tote Hotel to raise funds for her first photographic exhibition titled Punk a Photographic Journey, that featured some of the photos from the book. Below is the media attention that her exhibition received.

Main Image - Bullets 2 - Photo by Melynda von Wayward, 2004-2007

Background Image - Melbourne Punks 1 - Photo by Melynda von Wayward, 2004-2007