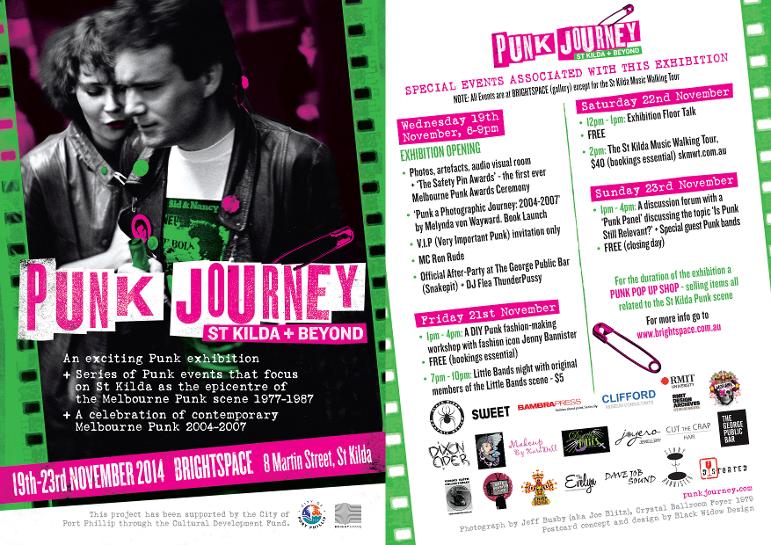 Punk Journey: St Kilda + Beyond Exhibition postcard, 2017 - Source: Melynda von Wayward
From the 19th-23rd November 2014, BRIGHTSPACE (gallery) in St Kilda presented Punk Journey: St Kilda + Beyond - an exciting and all–encompassing Punk Exhibition and series of Punk events.
With a strong focus on St Kilda as the historical epicentre of the vibrant Melbourne Punk scene 1977-1987, as well as a celebration of contemporary Melbourne punk 2004-2007, this unique and high calibre exhibition was coordinated by punk historian Melynda von Wayward.

An audio visual menagerie combined with authentic Punk artefacts, photos and historical information helped to create a high calibre exhibition that reflected the counter-culture and anti-establishment imagery of Melbourne punk, while simultaneously juxtaposing the 'Now and Then' aesthetics of the Melbourne punk subculture.
Brightspace - 8 Martin St, St Kilda

This project was supported by the City of Port Phillip through the Cultural Development Fund
Timeline & Special Events

Wednesday November 19th
:
Exhibition opens with photos, artefacts, Av Room, & the 'Safety Pin Awards' - Melbourne's first ever punk awards ceremony

Punk a Photographic Journey book launch
MC Ron Rude

Friday November

21st:
A DIY punk fashion making workshop with fashion icon Jenny Bannister

Little Bands night with original members of the Little Bands scene

November 22nd:

Floor talk with the exhibition coordinator - Melynd von Wayward



The 'St Kilda Music Walking Tour' with a special focus on St Kilda punk, including special guests Dolores San Miguel (author of the book The Ballroom) and Paul Elliott – former owner of Polyester Books

November 23rd:

A discussion forum on the 'Now and Then of punk', consisting of a local 'punk panel' and guest adjudicator Robin Ryde, all the way from the UK.


With special guest Punk bands Dixon Cider and The Peptides + closing day drinks!

Punk Journey Promo video - Edited by Mark Bakaitis
Punk Journey Opening night footage - By Ten Speed Films
Punk Journey exhibition video, parts 1 and 2 - Edited by Mark Bakaitis

View more footage from the exhibition

HERE

- including speeches, the Safety Pin Awards and bands!
Photos by Liz Ham, Timothy Treasure, Sam Tabone, Mark Bakaitis and Vanessa Allen