THIS PAGE IS UNDER CONSTRUCTION AND IS BEING UPDATED...PLEASE COME BACK SOON
MODS:
'Mod' is a subculture that began in 1960s Britain and spread, in varying degrees, to other countries. Focused on music and fashion, the subculture has its roots in a small group of London-based stylish young men in the late 1950s who were termed 'Modernists' because they listened to modern jazz, although the subculture expanded to include women.

The immediate predecessors of the Mods were the 'Teddy Boys' or the 'Teds', a term coined when a 1953 Daily Express newspaper headline shortened Edwardian to 'Teddy'.
TEDDY BOYS AND GIRLS:
The origins of the Teddy Boys actually go back to the late 1940's when Saville Row Tailor's attempted to revive the Dandy styles of the reign of King Edward VII, 1901-1910, known as the 'Edwardian' era, into men's fashions. An extremely narcissistic group, Teddy Boys sported drape jackets, usually in dark shades, sometimes with a velvet trim collar and pocket flaps, and high-waist 'drainpipe' trousers, often exposing the socks. The outfit also included a high-necked loose-collared white shirt, a narrow 'Slim Jim' tie or western 'Maverick' tie, and a brocade waistcoat. The clothes were mostly tailor-made at great expense, and paid for through weekly instalments.
Favoured footwear included highly polished Oxfords, chunky brogues, and crepe-soled shoes, often suede (known as 'brothel creepers'). Preferred hairstyles included long, strongly-moulded greased-up hair with a quiff at the front and the side combed back to form a 'duck's arse' at the rear. Another style was the 'Boston', in which the hair was greased straight back and cut square across at the nape.
Teddy Girls wore drape jackets, pencil skirts, hobble skirts, long plaits, rolled-up jeans, flat shoes, tailored jackets with velvet collars, straw boater hats, cameo brooches, espadrilles, coolie hats and long, elegant clutch bags. Later they adopted the American fashions of toreador pants, voluminous circle skirts, and hair in ponytails. Click HERE for more images of Teddy Girls fashion.
While the Teddy Boy pre-dated the introduction of American Rock'n'Roll music into Britain in late 1955, one fact is clear, that when Rock 'n' Roll did hit Britain like a thunderbolt in 1955, the music would quickly become adopted by Britain's Teddy Boys and from that point on the style and the music became inseparable.
Teddy Boys were the first youth group in England to differentiate themselves as teenagers, helping create a youth market. The US film 'Blackboard Jungle' marked a watershed in the United Kingdom. When shown at the Elephant and Castle, south London in 1956, the teenage Teddy boy audience began to riot, tearing up seats and dancing in the cinema's aisles. After that, riots took place around the country wherever the film was shown.
Some Teds formed gangs and gained notoriety following violent clashes with rival gangs which were often exaggerated by the popular press. The most notable were the 1958 Notting Hill race riots, in which Teddy Boys were present in large numbers and were implicated in attacks on the West Indian community. The violent lifestyle was sensationalised in the pulp novel 'Teddy Boy' by Ernest Ryman, first published in England in 1958.
By the late 1950s, however, the Teds had grown stale and predictable and youth was more than ready for a change - enter the 'Mods and 'Rockers'.
ROCKERS:
A significant proportion of late 1950's early 1960's Teddy Boys that were left became 'Rockers' adopting leather jackets and many riding British Motorbikes.
At the beginning, the Rockers were an evolvement of the Teddy Boy without the drape. In the 1950's the 'Rockers' were known as 'Ton-Up Boys' because doing a ton was slang for driving at a speed of 100 mph (160 km/h) or over and they rode mainly British manufactured motorcycles. The Teddy Boys were in fact considered the Rockers "spiritual ancestors".
The Rockers or Ton-up Boys took what was essentially a sport and turned it into a lifestyle, dropping out of mainstream society and "rebelling at the points where their will crossed society's". This damaged the public image of motorcycling in the UK and led to the politicisation of the motorcycling community. The Rockers (just like their predecessors, the Teddy Boys) enjoyed Rock 'n' Roll music particularly Gene Vincent, Vince Taylor, Johnny Kid and the Pirates and other early British Beat of the early 1960's pre-Beatles era.
The Rockers style in the main consisted of jeans, boots and leather jackets. The Rockers tended to decorate their black leather jackets with enamel badges and studs denoting their local gang or their motorcycle type etc. Most Rockers, like their predecessors, the Teddy Boys, were seen as anti-establishment rebels portraying a 'bad boy' image. The Rockers were essentially from the working class and despised any fashion, other than their own. They each had the same hairstyle, shaggy with a bit of slick to it or a quiff.
BODGIES AND WIDGIES:
The Australian version of Rockers stemmed from the 'Bodgies' and 'Widgies' subculture that came into prominence in the early to mid 1950s. However the term 'bodgie' first appeared in 1945 and was used by the armed forces when describing unreliable maintenance men or sly guys. 'Bodgie' came from the noun, 'bodger', meaning "something or someone false or unreliable, dodgy; something badly made or shoddy".
But by the early to mid 1950s the term was to became synonymous with a youth subculture that arose with the introduction of Rock'n'roll, and was similar to the 'Rocker' culture in the UK or 'Greaser' culture in the United States.
The males were called 'Bodgies' while the females were called 'Widgies', and they were often depicted in Australian media and folk-lore as louts and hooligans and for the most part were considered to be juvenile delinquents.
On 1 February 1951 the Sydney Morning Herald wrote on its front page:
"What with 'Bodgies' growing their hair long and getting around in satin shirts, and 'Weegies' cutting their hair short and wearing jeans, confusion seems to be arising about the sex of some Australian adolescents."
While citing a Sydney Morning Herald article from 21 January 1956, Professor Keith Moore wrote:
"... After a time, moccasins and American drape suits complete with pegged trousers replaced their attire of blue jeans and leather American Airline jackets or zoot suits. For Bodgies, almost all of whom were working class, emulating the high status Americans who had so recently occupied Australia as military personnel was easier than achieving upward social mobility."
The Young Ones - Bodgies and Widgies ABC Radio.mp3
MODS HISTORY:
In 1958, a small group of tailor's sons in East London adopted a smooth and sophisticated look, a combination of Italian and French styles of the period. They had Italian suits with narrow lapels impeccably tailor-made for themselves, and wore them with pointed-collar shirts. The shoes of necessity were hand-made winkle-pickers, so named because of their extremely pointed toes which so closely resembled the pins used to pick the meat out of a type of snail called a periwinkle.To top off the look, Mods wore their hair short and neat, following the lead of French film stars. Great pains were taken to get the hairstyle just right.
Mods inherited the narcissistic and fastidious tendencies of the Teds regarding their appearance. Dressing for show was transformed into a religion as British youth demolished the notion of male clothing as merely a status indicator. Until this time, it had been a common stereotype that only homosexuals were interested in fashion. The Mods trampled on this idea as well; clothing took precedence over all else.
Male mods adopted a smooth, sophisticated look that included tailor-made suits with narrow lapels (sometimes made of mohair), thin ties, button-down collar shirts, wool or cashmere jumpers (crewneck or V-neck), Chelsea or Beatle boots, loafers, Clarks desert boots, bowling shoes, and hairstyles that imitated the look of French Nouvelle Vague film actors. A few male mods went against gender norms by using eye shadow, eye-pencil or even lipstick.
Many female mods dressed androgynously, with short haircuts, men's trousers or shirts, flat shoes, and little makeup — often just pale foundation, brown eye shadow, white or pale lipstick and false eyelashes. Miniskirts became progressively shorter between the early and mid-1960s. As female mod fashion became more mainstream, slender models like Jean Shrimpton and Twiggy began to exemplify the mod look. Maverick fashion designers emerged, such as Mary Quant, who was known for her miniskirt designs, and John Stephen, who sold a line named 'His Clothes' and whose clients included bands such as Small Faces. The television programme Ready Steady Go! helped spread awareness of mod fashions to a larger audience.
The interests of early Mods, who at this point were fairly small in number, were things that would maintain their 'cool' image, such as modern jazz music and Jaguar cars; however, relatively small salaries afforded them only motor scooters for transportation. The most popular models, Italian Vespas and Lambrettas, has a sleek, 'cool' shape and the advantage of being less oily than motor bikes; therefore, sparing much damage to silk suits. For extra protection and cleanliness, the Mods (or Modernists), took to wearing parks, all-weather cape coats with fur-lined hoods in regulation Army green, though some Mods would dye them colours to match their scooters.
The original Mods gathered at all-night clubs such as 'The Flamingo' and 'The Marquee' in London to hear the latest records and show off their dance moves. Another favourite was 'Le Kilt', which was often filled with young French women whose 'cool' image they greatly admired. As the mod subculture spread across the United Kingdom, other clubs became popular, including 'Twisted Wheel Club' in Manchester.
The early Mods also listened to the "sophisticated smoother modern jazz" of musicians such as Miles Davis, Charlie Parker, Dave Brubeck and the Modern Jazz Quartet, as well as the American rhythm and blues (R&B) of artists such as Bo Diddley and Muddy Waters. Starting around 1960, mods embraced the off-beat, Jamaican ska music of artists such as the Skatalites, Owen Gray, Derrick Morgan and Prince Buster on record labels such as Melodisc, Starlite and Bluebeat.
The British R&B/rock bands The Rolling Stones, The Yardbirds and The Kinks all had Mod followings, and other bands emerged that were specifically Mod-oriented. These included The Who, Small Faces, the Creation, The Action, The Smoke and John's Children. The Who's early promotional material tagged them as playing "maximum rhythm and blues", and a name change in 1964 from The Who to The High Numbers was an attempt to cater even more to the mod market. After the commercial failure of the single 'I'm the Face / Zoot Suit', the band changed its name back to The Who. Although The Beatles dressed like mods for a while (after dressing like rockers earlier), their beat music was not as popular as British R&B among mods.
There was a very general breakdown of cliques within the Mod culture, into three loosely defined groups: the 'Mainstream Mods', the 'Scooter Boys', and the 'Hard Mods'. Mainstream Mods entertained most styles of the subculture from time to time, but generally dressed in Italian silk suits with narrow lapels. Colours ranged from grey and black to brown, red and green. Drainpipe trousers were cut above the ankle to reveal Italian tasselled loafers for basket-weave casuals, usually with pointed toes. Ties were always very thin and usually black, worn around the necks of button-down shirts. Turtlenecks were also popular in wool or cashmere, as were crew-neck and V-neck sweaters and polo knit shirts buttoned to the throat, with horizontal stripes being the preferred pattern. Hair was razor-short and often topped with a black bowler. Mods sported dark glasses, in keeping with the 'cool' image. Scooter Boys opted for a more casual attire, wearing anoraks and Army parkas for warmth.

Shrink-to-fit Levis were popular with the Mods, often in black. Like the mainstream Mods, Scooter Boys donned sweaters of wool or cashmere, but paired them up with plaid or checked trousers. They also outfitted their scooters, dressing them up with mirrors, head-lights and fog lamps around the handlebars. Hard Mods, a group that gradually evolved into Skinheads, were aggressively working class males who wore mainly jeans and work boots. Doc Martens were and are a popular work boot due to their exceptional strength and fit.
MODS VS ROCKERS:

By this time, the subculture had become a mass commercial phenomenon and by 1965, the working class rebels who had helped to create the original cult disapproved of it, could no longer identify with it, and were beginning to lose interest. Wealthy pop aristocrats opened their own clubs, feeding off of the popularity of the style, white the original Mods were left in their 9-to-5 jobs, feeling cheated and upstaged. They were also growing older, starting families and careers and establishing homes for themselves. As all fads do, the image gradually lost the limelight and was eclipsed by the hippies and the steadily growing drug culture of the late sixties.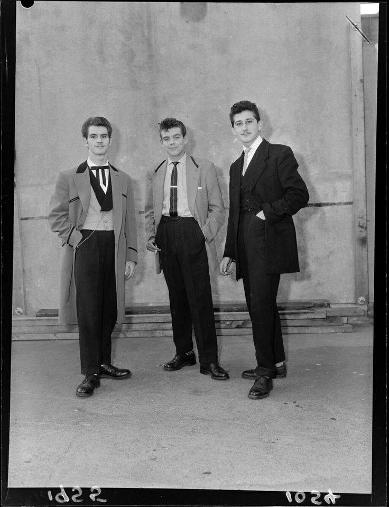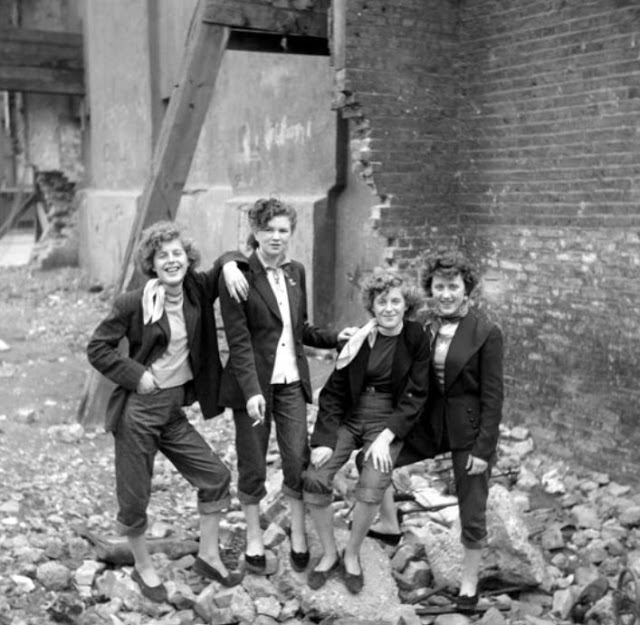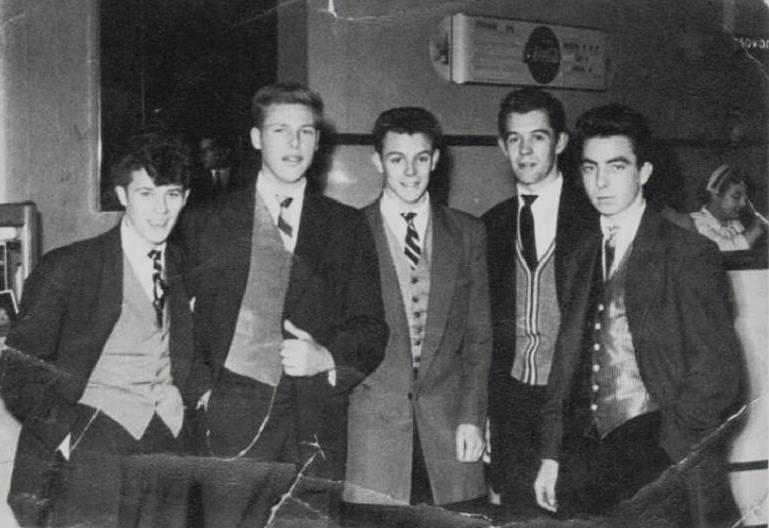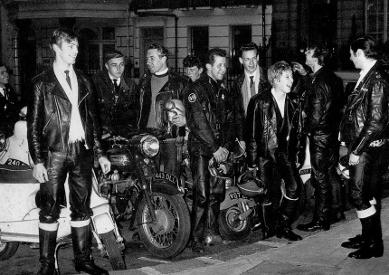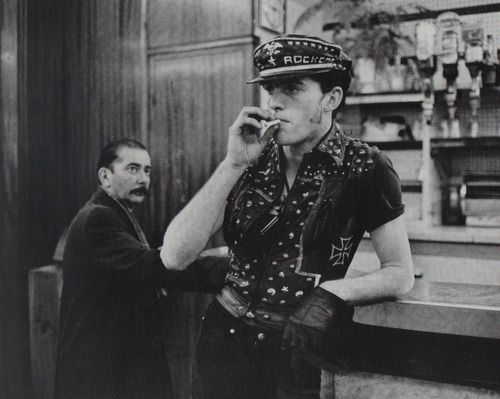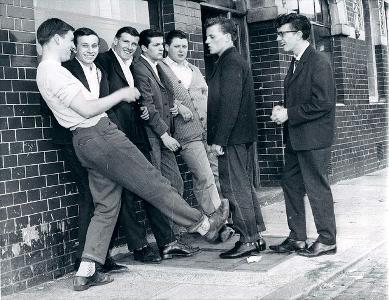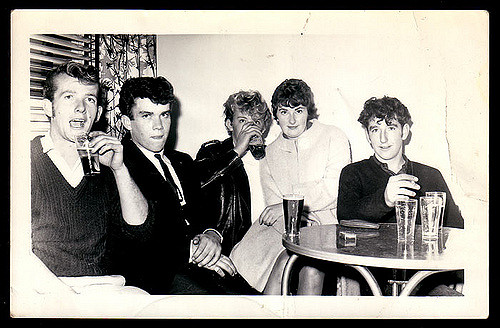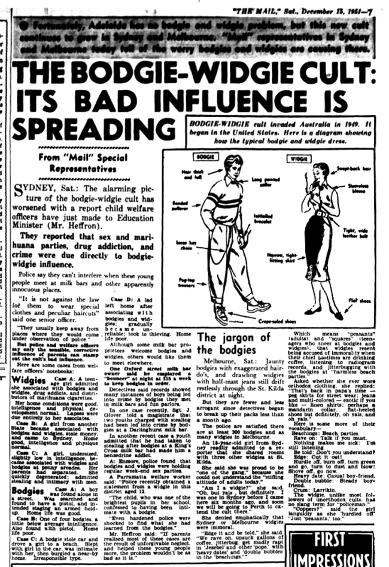 The Bodgie-Widgie Cult - from The Mail 1951 - courtesy NLA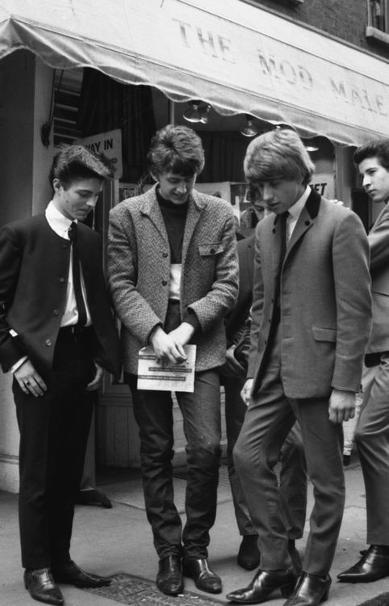 The Mod Male, London 1960's - Courtesy Tumblr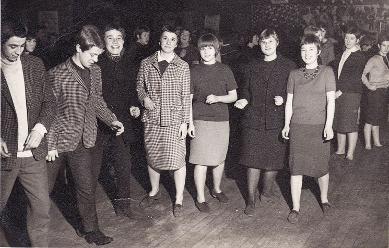 Mods 1960s - Photo by Paul Anderson courtesy Qthemusic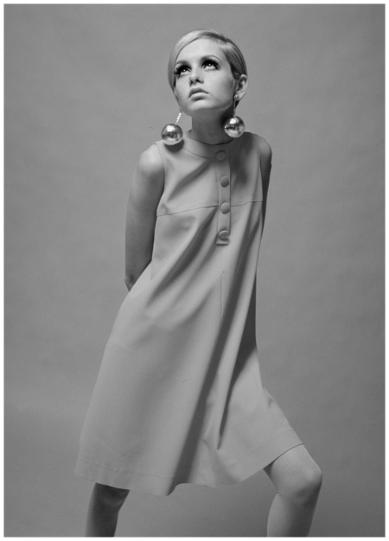 Twiggy wearing a Mary Quant design 1966 - Photo by Popperphoto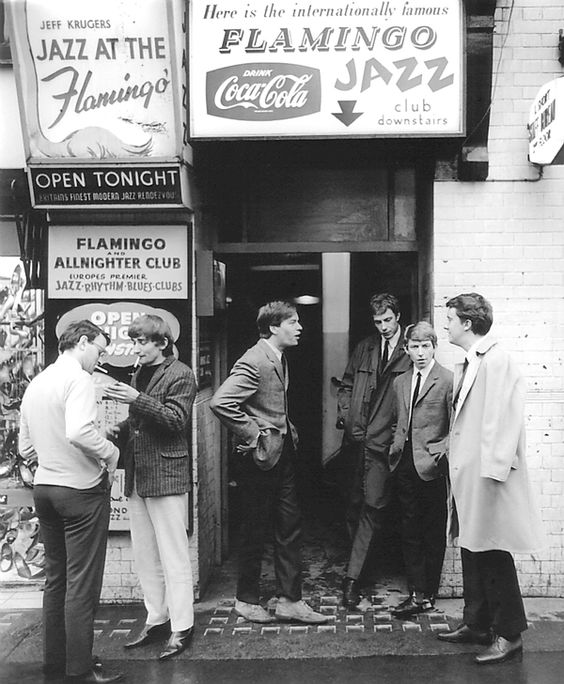 Flamingo Club, London, 1964 - Photo by Jeremy Fletcher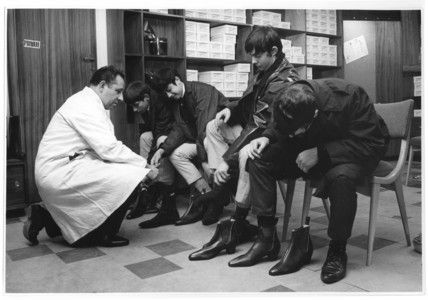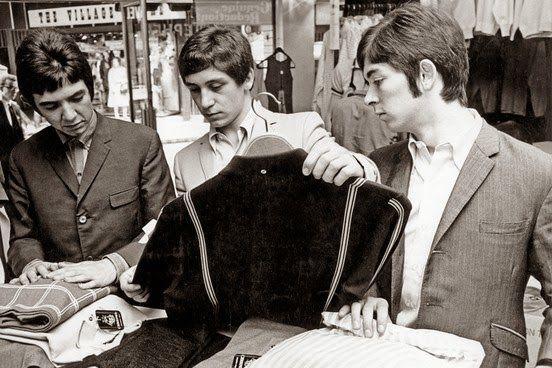 The Small Faces looking at knitwear 1966 - Photo by Tony Gale
REFERENCES:
Main Image - Little Murders 1979 -

Courtesy

of Rob Griffiths

Background Image - Lynne Randell 1967 - from the cover of '

Dynamic Lynne Randell' (Raven Records, 1986) - Courtesy Jukebox Saturday
UK Teddy Boys in New Zealand

1955

-

Courtesy

Edwardian Teddy Boy
UK Teddy Girls circa 1955 - Courtesy Messy Nessy Chic
Group of Teddy boys 1955 - Courtesy Edwardian Teddy Boy
UK Rockers early 1960s - Courtesy Edwardian Teddy Boy
UK Rocker early 1960s - Courtesy Frenchie Pop
A group of Bodgies mid 1950s - Courtesy Talking Australian
A group of Bodgies mid 1950s - Courtesy Talking Australian
'The Bodgie' book cover - Courtesy NZ History online
http://www.museumoflondonimages.com/image_details.php?image_id=446554&wherefrom=keywordresults
http://parkaavenue.blogspot.com.au/2014/05/the-italian-knit-when-mod-goes-casual.html?spref=pi
VIDEO:
https://www.youtube.com/watch?v=miiopvQDP3M

https://www.youtube.com/watch?v=MWmuHZuHWqY