THIS PAGE IS UNDER CONSTRUCTION - PLEASE CHECK BACK LATER
Before punks there were sharpies!
The roots of the sharpie subculture lies in the influx of European immigrants in Victoria in the early 1960s. The name 'sharpie' originated from the fashion; it was all about the clothes and looking 'sharp', and 'flash'. The first wave of sharpies from 1964 - 1970 were strongly influenced by the 1964 'rockers' and the style of certain Italian migrants. Demeanor was tough, hair was short back and sides and clothing was custom made by European tailors, thus allowing for a blend of neo-thirties suave combined with a contemporary larrikin attitude.
By the mid to late 1960s the sharpie subculture had evolved and existed in Melbourne's mainly working class and migrant inner city suburbs such as Richmond, Fitzroy, Collingwood and Brunswick where Greek, Italian, Yugoslav and English immigrants all lived side by side. But by the early 1970s, the sharpie movement started to spread to the outer suburbs of Melbourne where a 'rough as guts' working class ethos existed.

Dances were also a big part of the Sharpies social fabric, with bands such as Billy Thorpe & the Aztecs, Wild Cherries, Ray Brown & the Whispers, and Max Merritt & the Meteors being popular choices.

From 1970-1980, the second wave of sharpies, sometimes referred to as 'skinheads' by the media, were following hard, tough rock'n'roll bands like Lobby Loyde and the Coloured Balls, Buster Brown, Rose Tattoo, The Angels, Skyhooks and ACDC. Sharpies were now often congregating in large numbers, regularly attending live band concerts at town hall and high school dances as well as early discos. But due to their sheer numbers, Sharpies were often perceived as being untouchable by the police and were often associated with excessive violence, regularly taking part in fights.
"I became a Sharp myself at the end of what I call 'phase one' of the Sharpie reign. I got a pair of flags made by 'Morris the Tailor' in Camberwell, a grey venito v-neck jumper, a pair of chisels from Cusmano's in Collingwood, a navy blue trench coat, and of course a Sharpie girl! It was an original Melbourne youth culture, and I was proud to be part of it. Later came the staggers jeans, stripped cardigans, hair tails, etc. But for me, I was glad to be involved and have witnessed the first phase of Sharp – 1967 to 1969, a period which not many people are aware of!" (Chris O'Halloran - Skins'n'Sharps)
From the very outset knitwear was worn on the upper body; Banlon or Crestknit tops, and cardigans. The tight knitted cardigans were from 'Sams' and 'Conti' which eventually became known as a 'Conny'. Sam's had checks in the knit, while a Conti had stripes. The Conny became an essential part of the wardrobe. Some were round-necked, some v-necked and others had a Crestknit style collar. There was a small belt buttoned at the lower back, and they had pocket flaps, 5 buttons and stripes of varying widths and colours. Initially they were worn as a slim-fit – and later became tighter and tighter until the sleeves just covered the forearms and it was as short as a midriff top.
In the early 1970s a first year apprentice earned sixteen dollars per week, and by the time they were on a full time wage they earned thirty six dollars per week. A Conti cardigan cost thirty dollars and came with a two week wait. However customised dress codes brought prestige, and so there was a huge amount of time, money and pride invested in dressing up. Pretty soon kids started bringing in their own designs, sparing no expense to wow their mates with new patterns and colour combinations.
"I had about twenty Connys custom made over the years. I always had them dry cleaned, and folded them like they were in the shop – the right way. You could get any style you wanted. A mate of mine had one with six belts running down the middle of his back. If someone tried on a cardigan from off the shelf Mr. Conti would always click his fingers and say 'Justa right for you' no matter if it was too big or whatever, that was his saying" (Cliff - Top Fellas)
Sharpies bought their shoes from stores such as 'Acropolis and Venus' in Richmond, 'Cusmano's' in Collingwood and 'Mediterranean' in Kensington. Initially these shoes were points, but they developed into chisel toes in either suede or two-tone leather with a Cuban heel. A Basket weave was highly desirable, and with an all leather sole and stacked heel. These shoes could be bought off the shelf – but handmade custom shoes were a point of pride for the Sharp.

The slightly flared trousers turned into 'Flags'- which had twenty-two inch bottoms – and were usually pinstripe, herringbone or Prince of Wales check. These could also be worn with cuffs. The trousers were made to order with custom details such as number and placement of pockets; shape of pocket flaps and so on. Someone had even devised a cigarette pocket halfway down the side of the leg with a v-shaped button down flap. However Flags had finished by the early seventies.
Later Sharpies also wore Levis or Lee jeans bought from Louis Epstein's. These were regular straight leg jeans, worn with a Banlon or Crestknit shirt. Some Sharps made their own t-shirts with the name of the gang on them – 'Blackburn Sharps', 'Westside Sharps' or music heroes 'Bowie' or 'Lobby'. For nightclubs there were high-waisted pinstripe pants or Staggers jeans. Staggers were manufactured by Joseph Saba – very flared, very tight. There were also pinstripe and plain 'Baggies' which were also. attracting. By 1973 braces and flat caps were worn; along with Miller shirts with metallic thread; Blueys – or lumber jackets with sheepskin lining and platform shoes. By the mid 70s 'Treads' were also worn by Sharpies – these were woven open toed suede with tyres for soles.
Although the male and female Sharpie style was very similar, the female Sharpies, later called 'Brushes', had their own take on the fashion. Along with Connys, pastel coloured 'Elti' cardigans were worn with strap-on school shoes and later wedges with a 6 inch sole. High waisted flared leg pants, which would normally cover their platform or clogs shoes, as well as a pinafore or mini skirt in denim were also common wear.

Halter neck tops, twin sets, pearl necklaces, striped socks, and satin pencil skirts were also part of the Sharpette's look. Hair varied from short with fringe tails, and sometimes triggers, to a Bowie Cut. It was acceptable for a girl to keep her hair long, but look sharp in every other respect. Makeup was plastered on, particularly around the eyes, and eyebrows were plucked pencil thin. Lipstick was pale, and nail polish was black, silver or iridescent greens and blues.
"Elti knitwear was a small shop in Bayswater. I can't remember what they had on their racks, but you could go in and buy made to order cardigans and jumpers. The cardigans were often striped and sometimes had patterns through them, and would have little animal shaped buttons, like what you see on old fashioned babies clothes today. They also made jumpers and we would order a plain jumper, usually with a round neck. Our favorite design was black, with a silver spider, or a silver rose." (Julie Mac)
Tattoos were also a part of the look – and at fifteen or sixteen you could get tattooed by Dicky Reynolds, Alfie Mingus or Danny Robinson. The next group of Sharps had a meaner, more aggressive look. The shorter tighter fitting clothing made the body look bigger, an earring in the left ear was permissible, and hair was short on top and long at the back – the precursor to the mullet.
SHARPIES TURN PUNK:

The birth of the glam culture in the early 1970s led to many Sharpies taking a keen interest in bands like Slade, Suzie Quatro, David Bowie, T-Rex, Gary Glitter, Skyhooks and Hush. And it wasn't long before some of the Sharpie boys, with their spiked hair and Ziggy Stardust features, were soon being given nicknames like Chane Bowie, John Bowie, Flipper Bowie and Peter Bowie. On some occasions these Bowie boys would turn up to concerts or clubs wearing red, white and blue striped eye makeup as well as eyeliner and blue or black nail polish.

By 1977 Punk had emerged as the new youth cult with its own fashion code and set of ideologies. But this nihilistic subculture, with its emphasis on breaking with the past, was soon having a dividing effect on the Sharpie world, with some Sharpies identifying with the Punk scene and integrating themselves into it, while others remained very hostile towards it.

As Tadhg Taylor writes in Top Fellas:
"The Crystal Ballroom opened in 1979 and quickly became the focal point of Melbourne's Punk/New Wave scene. Located on Fitzroy Street, St Kilda, the Ballroom was just down the road from popular Sharpie nightspots like Mickey's, Bananas and Kingston Rock. It wasn't long before Sharpies started turning up at the Ballroom, some curious about the new music, others with more malevolent intentions...
There were essentially three Sharpie responses to Punk: Some remained totally antagonistic to it, roughing up any Punks unlucky enough to cross their path. Others dived in boot 'n' all, dropping the sharp image and throwing their lot in with the Ballroom crowd.A greater hedged their bets. They still wore their Connys and ran in mobs, but they'd sometimes hang around the Punk clubs and got into a bit of the Punk music and fashion."

But thanks to La Femme, a Punk band consisting of former Sharps, many ex-Sharpies successfully crossed over into this new genre of music, fashion and politics. However by the second half of the seventies, after years of bad press and bad behaviour, being a Sharpie was becoming hazardous. Coupled with general mistrust and violence between different gangs, by 1979 the Sharpie movement ended, splintering up into nightclubs with discos, pubs with Punk bands or pure Aussie 'pub rock'.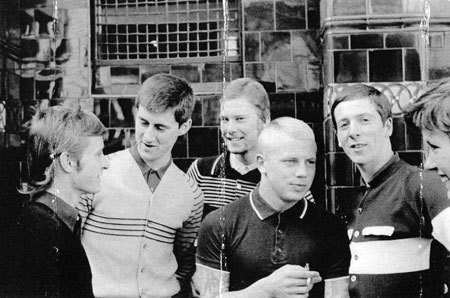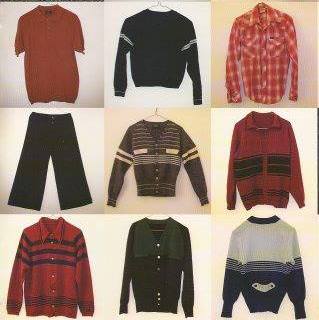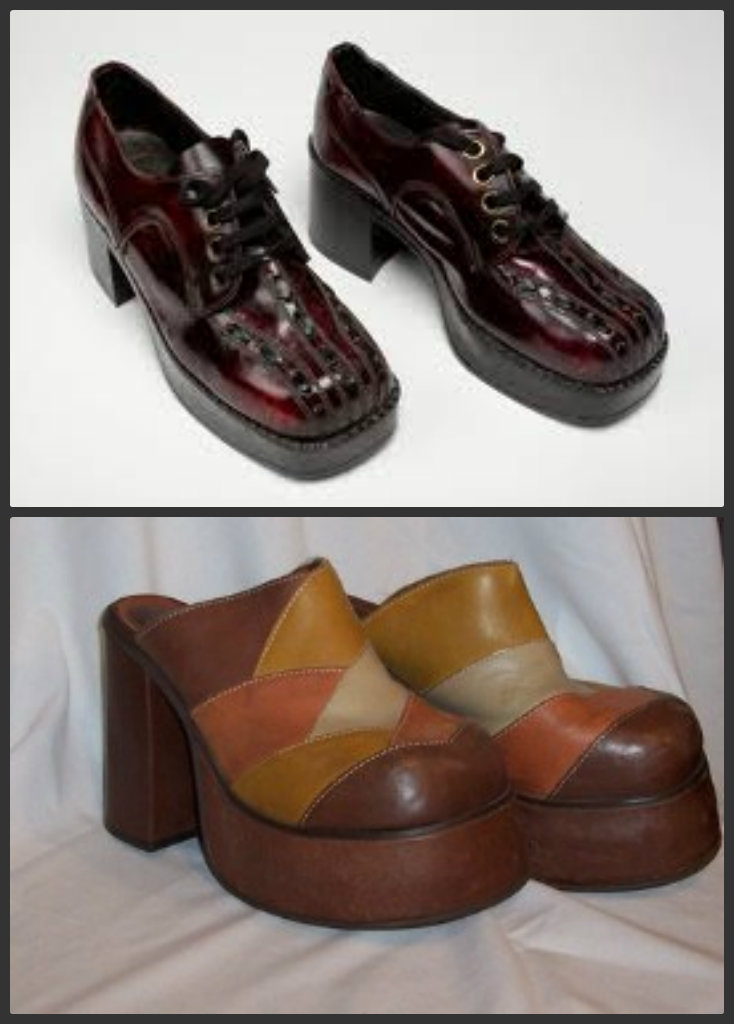 Sharpie shoes - Source required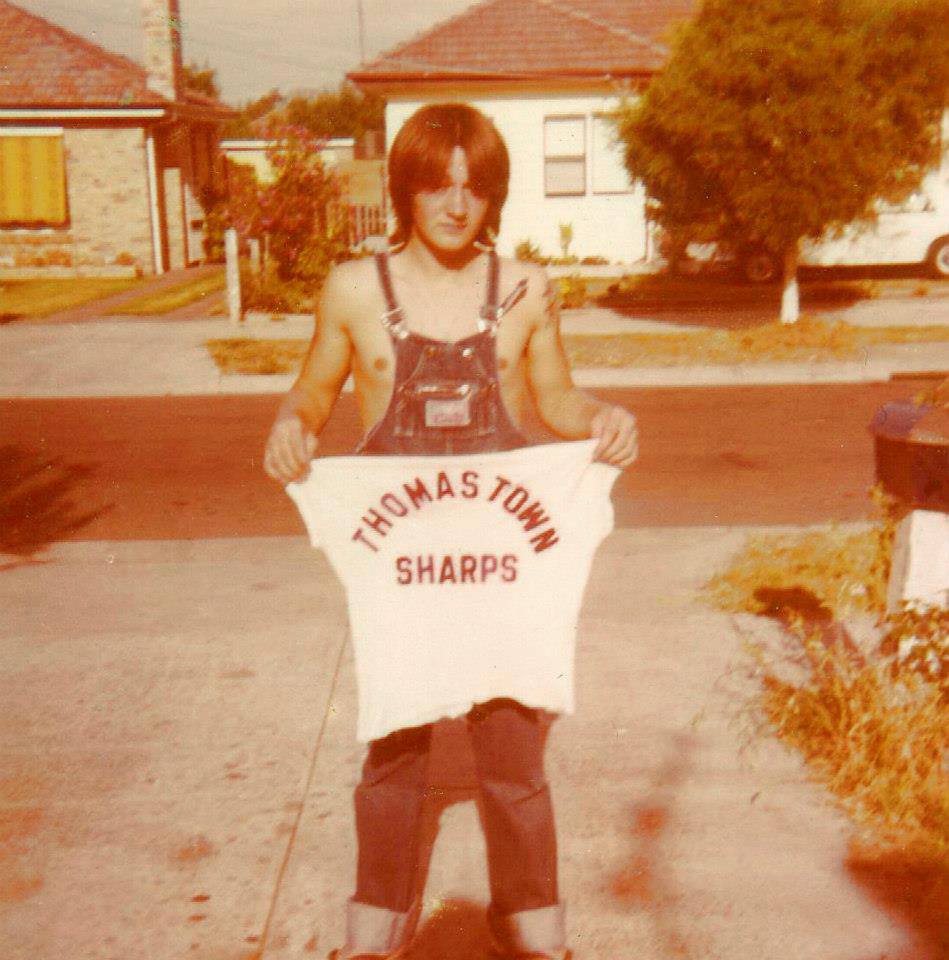 Peewee, Thomastown Sharps 1978 - Photo by John Bowie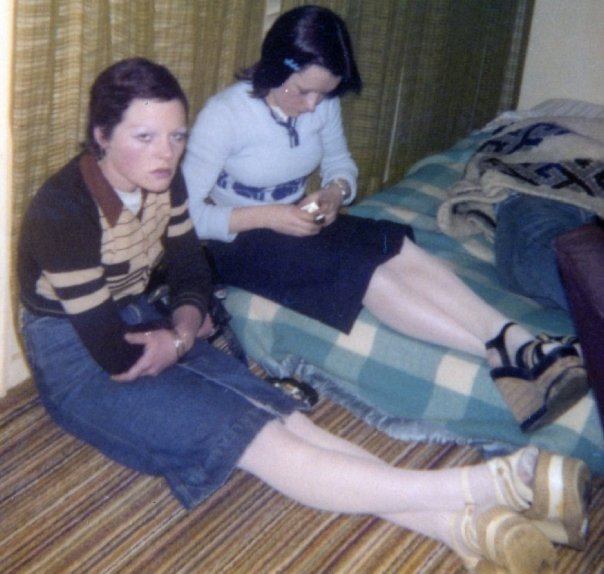 Sharpie girls 1976 - Courtesy of Don Burgess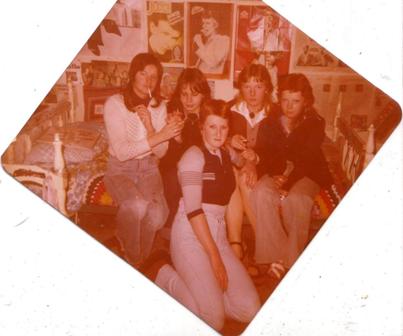 Sharpie girls 1978 - Courtesy of Julie Mac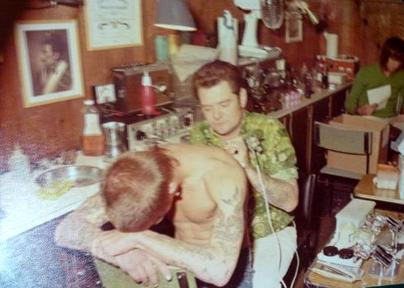 Sharpie getting tattooed 1978 - Courtesy of Brett Stewart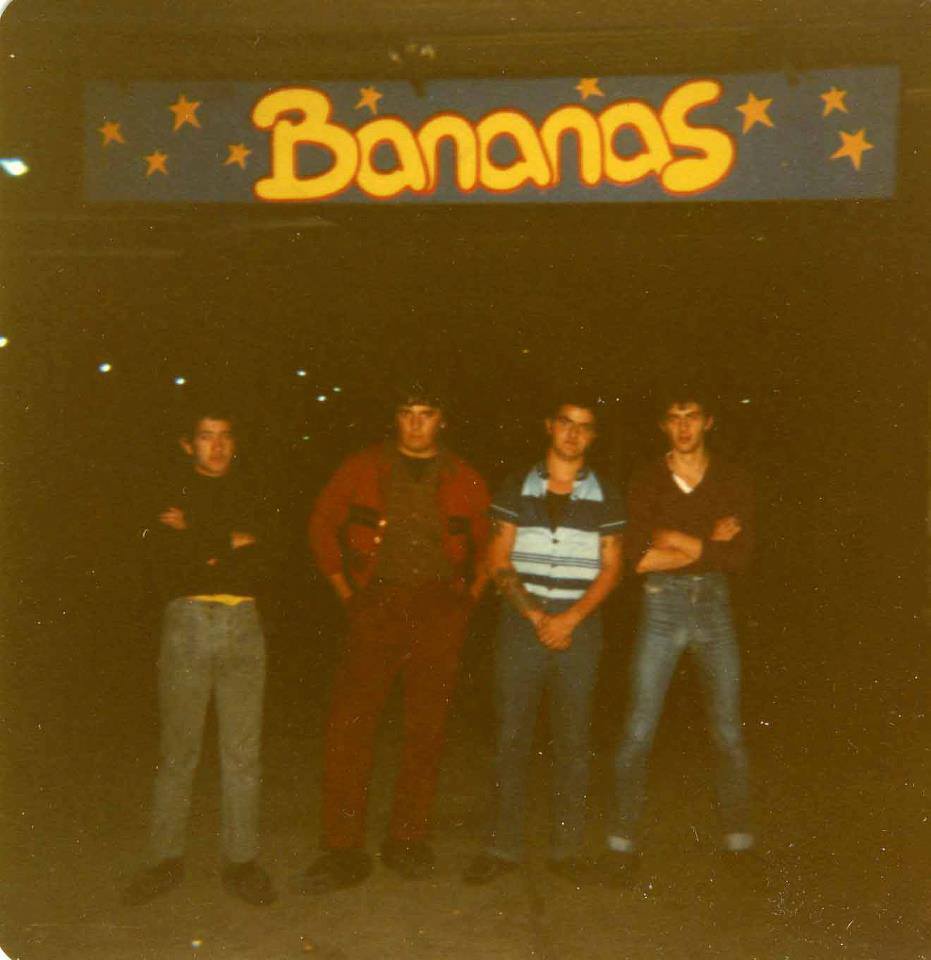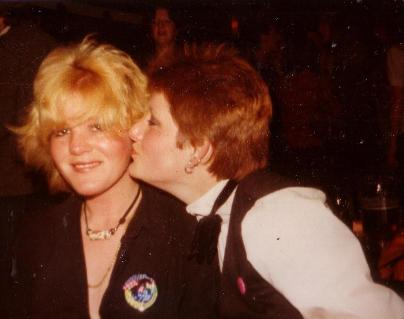 Sharpie girls turned Punk 1979 - Courtesy of Julie Mac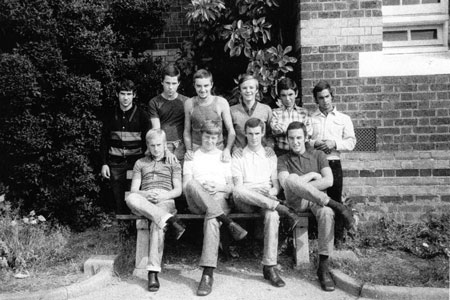 "I started out as a Sharpie from a gang in the northern suburbs called the Oak Park Boot Boys. We used to dress up in all whites and go out at midnight. I first heard about punk from this skinhead who was hanging around us from England. He came over to my place with this record by the Sex Pistols - 'Anarchy in the UK '- and we thought it was fantastic so we started hanging around with the sharpies dressed as punks. It was a natural progression of youth culture, from one thing to another. When we first heard Punk music we all looked at each other and thought "We could do this!" We understood what they were talking about, and we understood that the music wasn't about being polished, that it was an alternative way of doing stuff. Then together with a couple of guys from my gang who started Teenage Radio Stars, we formed La Femme. It was like being in a gang but instead of violence we were hitting people with our music. It was the same modus operandi. We used to go to gigs like they were fights and belt people with the music and leave as victors. It was a great feeling. But at the time most people in Australia didn't get punk music, they just thought it was horrible noise. They didn't realise we were letting out our aggression and our angst. That's what the songs were about. If something pissed you off you thought great now I've got something to write about", (Chane Chane - La Femme)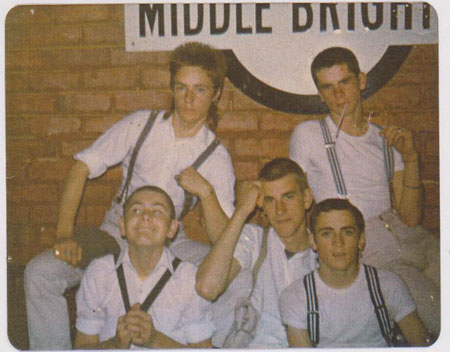 Oak Park Boot Boys 1973 with Chane Chane - Courtesy
Top Fellas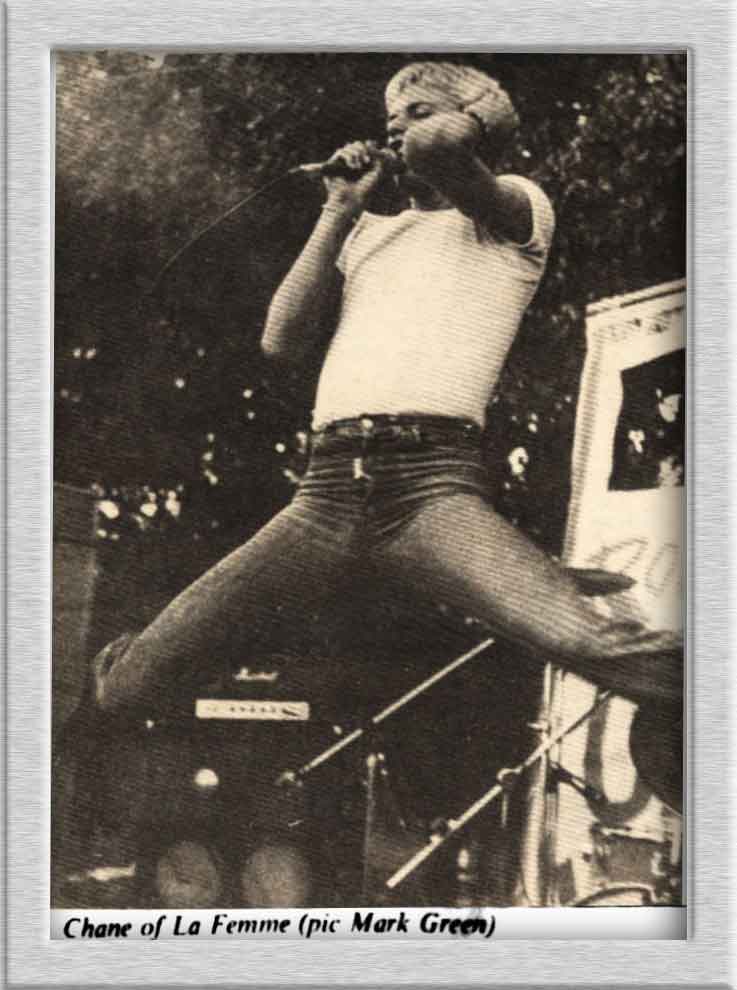 Chane Chane, La Femme 1979 - Photo by Mark Green

Deep by Rebecca McLean 1988 - the password is 'Sharpies'

A CD homage to 1970s Melburnian youth subculture


23 Tracks and a MASSIVE Booklet!

Buy a copy of the CD HERE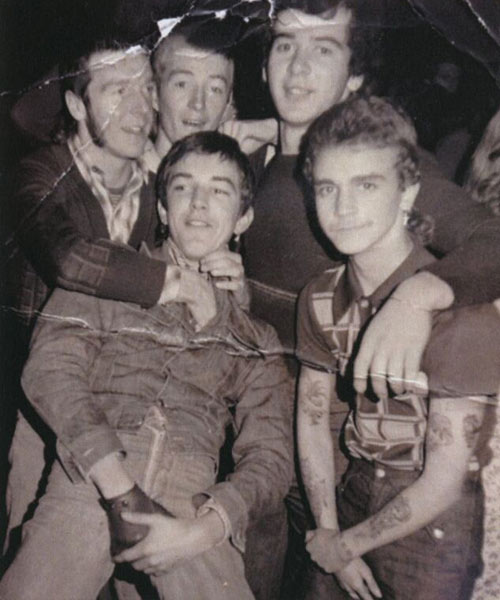 Frankston Sharps - Photo courtesy of Peter Brookes
REFERENCES:
VIDEO:
Short film by Carol Jerrems 1973


Short film by Greg McCainsh 1974




The Sharpies Dance Enhanced - Courtesy of Brendan Young

'Deep' by Rebecca McLean 1998

QUOTES:
Cliff - Courtesy Top Fellas

Julie Mac - Courtesy of Julie Mac

Chane Chane - Personal interview

NEXT PAGE