The Little Bands - Part 1:

The Little Bands scene was a sub-scene that occurred as a parallel to the more formalised Melbourne punk band scene. The first Little Band formed in 1979 after friends of the Primitive Calculators put together a temporary group to support The Boys Next Door at a venue called Hearts in Carlton. At the time members of the Calculators were living in the inner-city Melbourne suburb of North Fitzroy next door to fellow synth renegades WhirlyWirld. Both groups latched onto the idea of forming temporary, side-project bands that would play no more than two gigs, for no more than 15 minutes and share each other's equipment — i.e. 'Little Bands'.
The most common manifestation was in the Little Band itself. A spontaneous and usually short lived but vibrant and fresh agglomeration of people, ideas and borrowed instruments would result in quick, intense and sharply focused performances of some material based on a new idea. In many cases, once expressed, these ideas would often be superseded by the next time the same people surfaced. It was a constantly turbulent melting pot of people, band names and sounds.

Soon a raft of Little Bands had started up and began to convene at both the Calculators' and Whirlywirld's twin terraces to use their equipment and rehearsal space. These resources were shared among the north of the river extended family and the spaces were in permanent use 24 hours a day as people rolled up to try things out. Over time other small collectives setup their own spaces, but the core group of people in and associated with these two bands were the nucleus of the Little Bands.

Made up of a circle of artists, art enthusiasts, spontaneous musicians, poets, performance artists and filmmakers, mostly of whom were dole recipients with a lot of spare time on their hands, Little Bands proliferated amid a haze of booze, weed and speed. In a milieu where ideas were considered more important than musical prowess, the bands often sounded quite terrible; these kids were sloppy, clangy and discordant. In turn, they could sound equally fantastic: a mixture of epileptic drum machine rhythms, stabbing synth lines and creepy/witty lyrics making for oddly compelling results.
"The little bands thing was just a bunch of like-minded people playing in an endless array of line-ups sort of apart from the Clifton Hill mob of David Chesworth and Philip Brophy. It was in some ways very anti of what they were doing. Philip Brophy was very against emotion in music, while the little bands thing was meant to be wild and chaotic and punk added into doing sort of art, experimental stuff, and not just electronic. A lot of the original participants were actually artists who applied the Dada sort of approach of their painting. It was the attitude and idealism of punk, but applied to a post-punk art type thing." (John Murphy - Whirlywirld)
"We just told everybody we know, why don't you get a band together? It's really easy; you can knock up a band in five minutes, and then throw it out the window. The idea just seemed to take off." (Stuart Grant - Primitive Calculators)
The Little Bands performed regularly, with monthly Little Band nights at the Champion Hotel, Fitzroy, and occasional migrations to North Melbourne and St Kilda. In 1979 a local record shop owner, Max Robenstone of Climax Records in Gertrude st Fitzroy, paid for the recording of the 'Little Bands' EP, featuring The Take, Ronnie and the Rhythm Boys, Morpions and Too Fat to Fit Through the Door, as well as a Primitive Calculators single.

Little Bands member and radio announcer Alan Bamford also recorded many of the Little Bands gigs on a TEAC ¼ track reel to reel tape recorder using a Shure 58 mic on a stand positioned in the air next to the mixing desk. These tapes were then broadcast immediately after gigs on his 12am – 2am Friday night slot on 3RRRFM.
"John Murphy had a radio show on 3RRR which I helped out with. When he got tired of doing it I took over and created a more permanent show. The period I did it intensely was 1980. I didn't have much money and so I would go into the 3RRR news room and act like I was doing something journalistic for them, bulk erase half a dozen spools of tape and walk out, and that's what I used for the show. I Never told them about it, I mean they were for bulk erase but I didn't own them and I didn't have permission to use them." (Alan Bamford)
The Little Bands gigs were most often mixed by The Boys Next Door mixer, Groper (real name Steven Colgan). Groper had his own sound system and he was completely cool with the prospect of 12 to 15 bands a night, all playing different instrument setups for 10 minutes, and managed to sort acceptable sound with no sound check with great ease. These recordings owe an immense debt to his skill.

"We started playing in the little bands scene and our name was just plucked out of the air. There were about 14 of us and we were totally tuneless, but there was a rule that if you could play an instrument you couldn't play in the band. Although supposedly anyone could play, there was a hierarchy in the little bands, and basically we were down the bottom, but we had enthusiasm." (Roland & Crusader - The Delicatessens)
"... We played our first public appearance, it was all part of the first little band's night at the Champion Hotel. We had nothing rehearsed and we had to go on second. There were ten bands in all. We had ten to fifteen minutes. We started with 'I Suffer For My Art' . Terry got the rhythm wrong, Paul forgot the lyrics and none of us could hear ourselves, so basically we made a racket." (Jim Buck - The Band of Hope and Glory)
The one-off North Fitzroy Beat was created in 1980 by Alan Bamford and focused purely on the Little Bands.
View it
HERE
Melbourne's Little Bands Movement - On The Music Show.mp3
List of Little Bands:
$2.50
66 Johnstons
Alan Bamford Musical Experience
Albert Hammond Megastar
Bags of Personality
Band of Hope and Glory

BeisselBoyceBoswell
Child Molester + 4

Clang
Considered Town Planning
Delicatessens
Hey There
Invisible Music

Jim Buck Solo

Jimmy Haemorrhoid and the Piles
Junk Logic
Kim and Mark
Kim Beissel
Land of Hope and Glory

Lest We Forget
Morpions
Ralf Horrors
Ronnie and the Rhythm Boys
Sample Only
Seaside Resort
Shop Soiled
Somersaulting Consciences
Stand by Your Guns
Tarax Show
The Band of Hope and Glory
The Beaumaris Tennis Club Quartet
The Devils
The Eastwood Family
The Egg
The Franging Stuttgarters
The Go Set
The Incredibly Strange Creatures Who Stopped Living and Became Mixed Up Zombies
The Klu
The Irreplacables
The Ivan Durrants

The J P Sartre Band
The Leapfrogs
The Lunatic Fringe
The Nookies
The Oroton Bags
The Pastel Bats (The Pink Bats)
The Persons Borthers
The Potato Cooperative
The Quits
The Saxophone Caper
The Soporifics
The Spanish Inquisition
The Swinging Hoy Family
The Take
Thrush and the Cunts
Too Fat to Fit Through the Door
Use No Hooks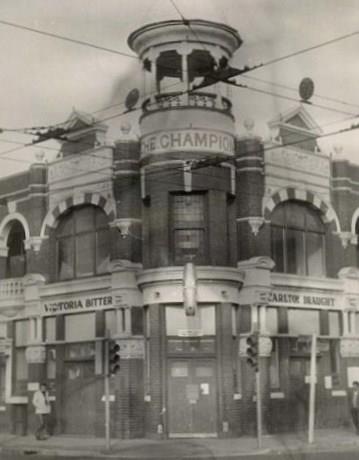 The Champion Hotel, 1979 - Source: Timothy Hughes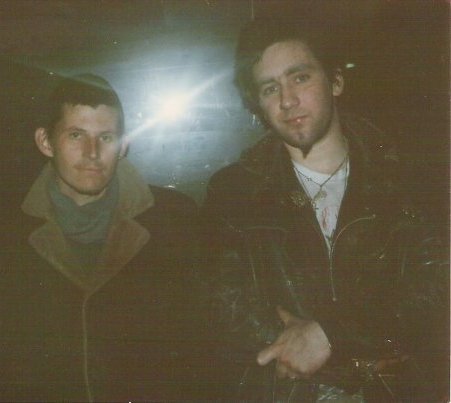 Alan Bamford & John Murphy, 1979 - Source: Alan Bamford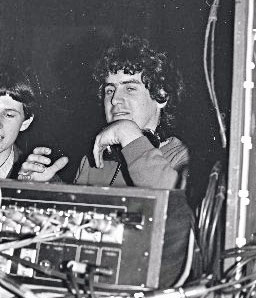 Groper, 1979 - Source:
SKMWT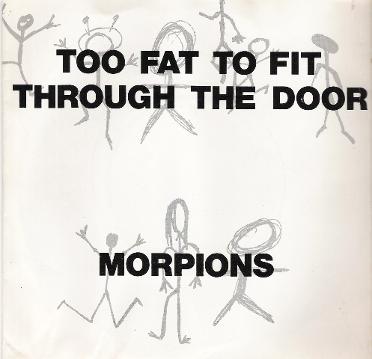 Little Bands EP cover and insert, 1979 - Source: Alan Bamford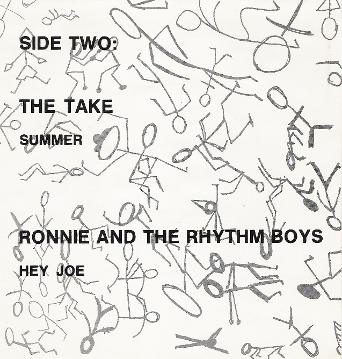 The Little Band scene was represented, albeit semi-fictionally, in the 1986 cult film Dogs in Space, directed by Richard Lowenstein and starring INXS frontman Michael Hutchence. Primitive Calculators briefly reformed to star in the film, playing a new version of their song 'Pumping Ugly Muscle'. Original little band Thrush and the Cunts also appear with the song 'Diseases', and little band figurehead Marie Hoy performs a cover of 'Shivers' by the Boys Next Door. Coinciding with the film's long-awaited re-release, Lowenstein revisited Dogs in Space, the Little Band scene and Melbourne post-punk in general in the 2009 documentary We're Livin' on Dog Food, featuring rare footage and interviews with various members of the scene.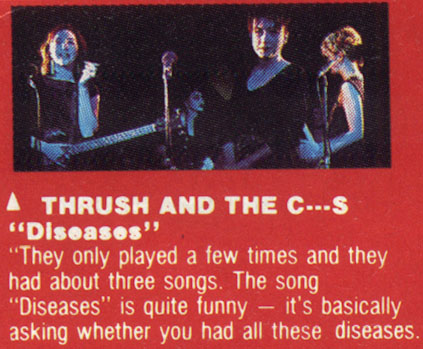 Thrush and the Cunts review, Dogs in Space - Source: Required

The Little Bands - Part 2:
The concept reached its zenith in late 1979, and come 1980 The Primitive Calculators (except for Dave Light) split up and left for Europe, and Whirlywirld relocated to London. However there was a second wave of Little Bands who kept the flame burning including The Oroton Bags, The Incredibly Strange Creatures Who Gave Up Music To Become Crazy Mixed Up Zombies, and Use No Hooks, who had a warehouse space in Langridge St Abbotsford. These three groups of utterly different musicians drove the Little Bands during 1980 with the phenomena being well supported by Dolores San Miguel who booked bands for venues such as the Seaview Hotel (The Ballroom) and the 475 Club. There were one off gigs as well - notoriously at the Collingwood Town Hall plus innumerable house parties.

By late 1980 the energy was dissipating and the social fabric of the extended Little Bands family was crumbling due to dislocation, poverty, heroin, alcohol and particularly amphetamine use. By 1981 there were no more Little Bands nights, instead The Incredibly Strange Creatures set up a warehouse performance venue called the Killayoni Club, with Lawton Ellery and his home made sound system, 'Dresden Sound', and presented some truly psychedelic nights of film, sound and performance in the year that followed. Use No Hooks strutted their stuff as a serious funk band and gigged regularly in 1982 – 1983 before death and other disasters rented them asunder. Many of the Little Bands members went on to have productive careers in various fields of creative and artistic expression.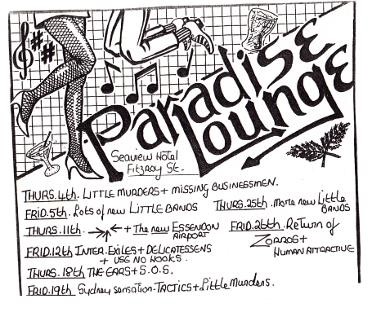 Paradise Lounge promo with lots of new Little Bands, 1980
Source: Dolores San Miguel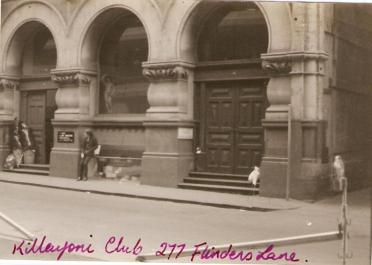 Killayoni Club, 1981 - Source: Kate Buck

"The Little bands scene was very healthy and fun.

All of the bands would use the same instruments - A trombone, a WASP (Small electronic keyboard) which became the 'sound' of the Little Bands, a drum kit (garbage can or cardboard box) with 2 logs for sticks, un-tuned guitars with broken strings (if somebody just broken a string bad luck, you would still have to play it) and a bass.

We found out later that the sound of the Little Bands was exclusive to Melbourne." (
Kate Buck - The Incredibly Strange Creatures Who Stopped Living and Became Mixed Up Zombies)
ALAN BAMFORD MUSICAL EXPERIENCE: Alan Bamford, John Murphy, Ollie Olsen, as well as Virginia Kane, Mick Earls and Arne Hanna.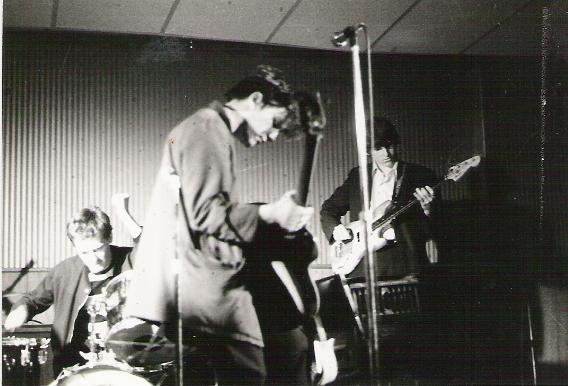 ABME, 1979 - Source: Alan Bamford
HOY FAMILY SWINGERS: David Hoy, Marie Hoy, Tom Hoy, Jules Taylor and Stuart Grant.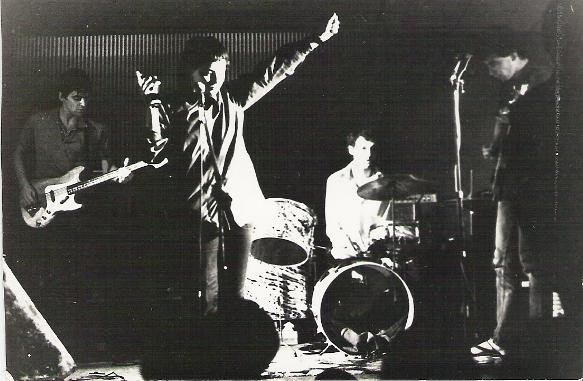 Hoy Family Swingers, 1979 - Source: Alan Bamford
RONNIE & THE RHYTHM BOYS: Jules Taylor, Denise Rosenberg and Stuart Grant.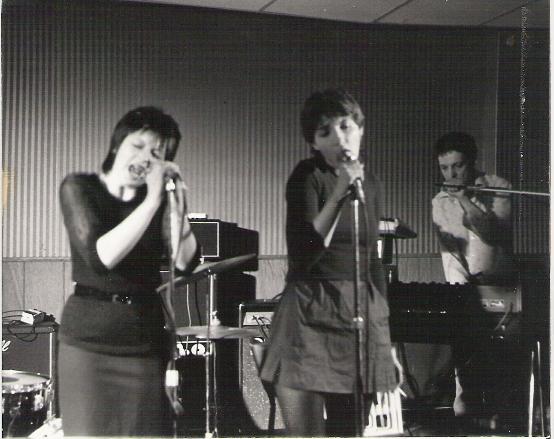 Ronnie and the Rhythm Boys, 1979 - Source: Alan Bamford
SAMPLE ONLY: Mick Earls, Arnie Hanna and Steve Bourke.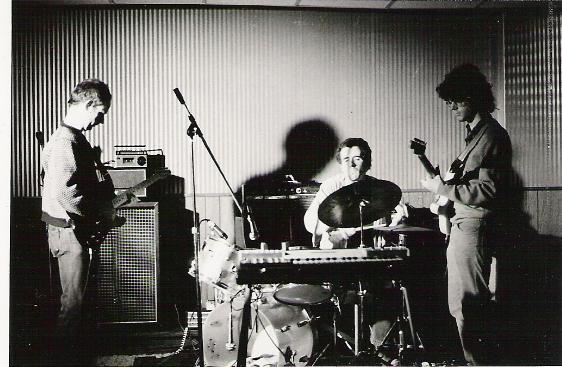 Sample Only, 1979 - Source: Alan Bamford
THE BEAUMAURIS TENNIS CLUB QUARTET: Rowland Polio Penguin, Joanne Murtagh and Debra Goldsmith.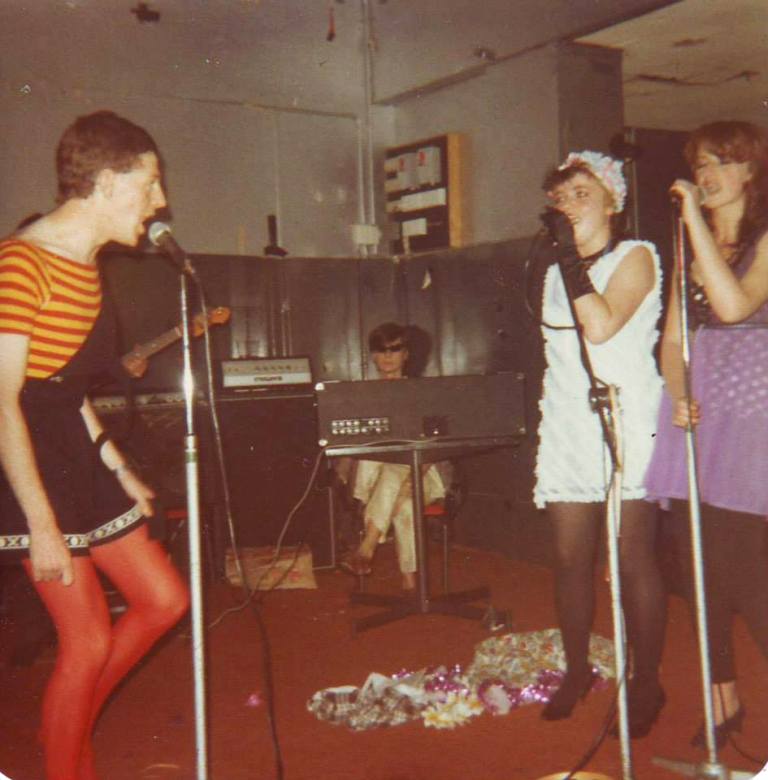 The Beaumauris Tennis Club Quartet, 1980 - Source: Angela Adams

THE DELICATESSENS:
Rowland Polio Penguin, Rania Stephan, Teresa, Peter Particle, Syndal, Mim, Debbie Goldsmith, Bryan, Crusader Rabbit, Alison Zimbab, Joanne, Perry Perriwinkle and Doctor Peter plus up to three others for various gigs.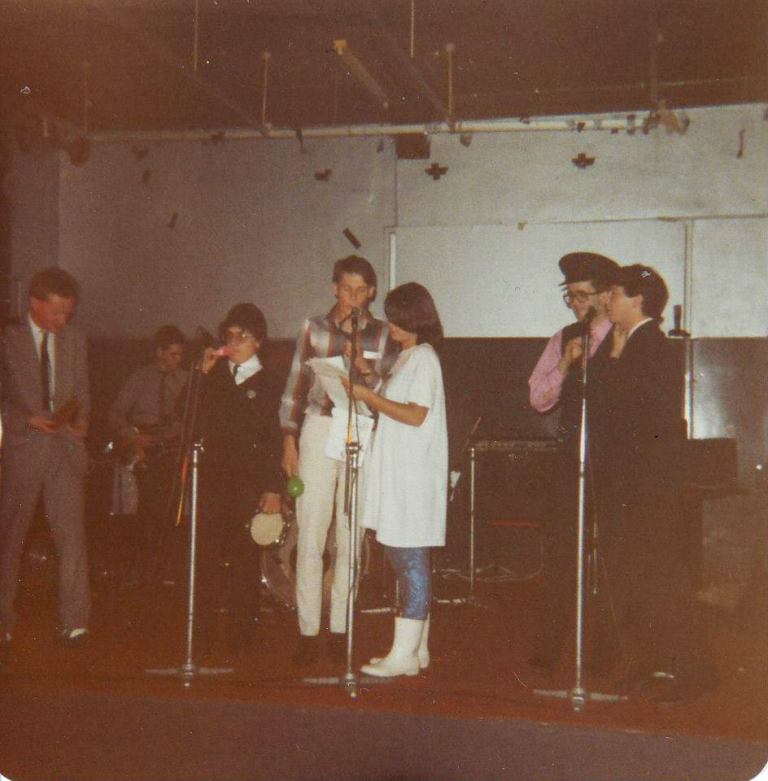 The Delicatessens, 1980 - Source: Angela Adams
THE INCREDIBLY STRANGE CREATURES WHO STOPPED LIVING AND BECAME MIXED UP ZOMBIES:
Jim Buck, Kate Buck, Terry Shannon, Paul Doogood and Wendy Gauwitz.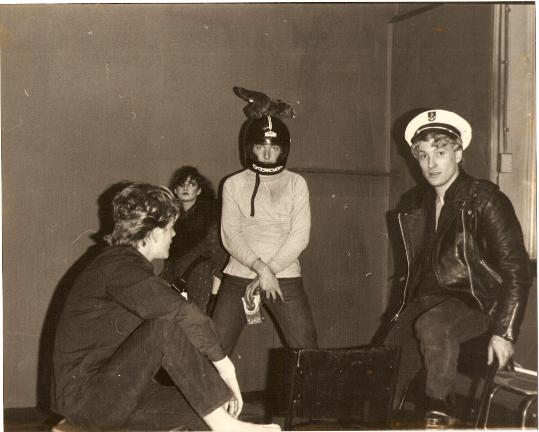 TISCWSLABMUZ, 1980 - Source: Kate Buck

THE PASTEL BATS: Peter Orr, Craig Neish, Simon Grounds, Tim Costigan, Peter Kenney and Kerry Frost.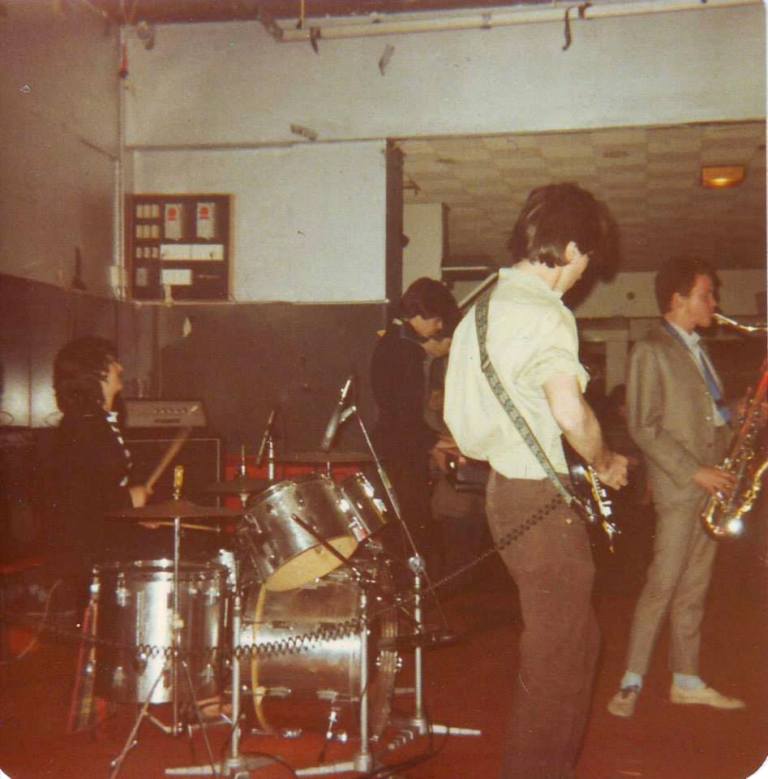 The Pastel Bats, 1980 - Source: Angela Adams
THE PERSONS BROTHERS: Stuart Grant, Jim Addison and ?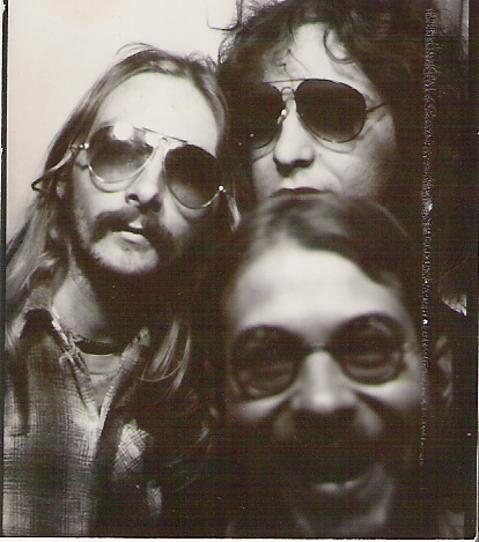 The Persons Brothers, 1979 - Courtesy of Alan Bamford
THE TAKE: Marissa Stirpe, Frank Lovice, Jules Taylor and Tom Hoy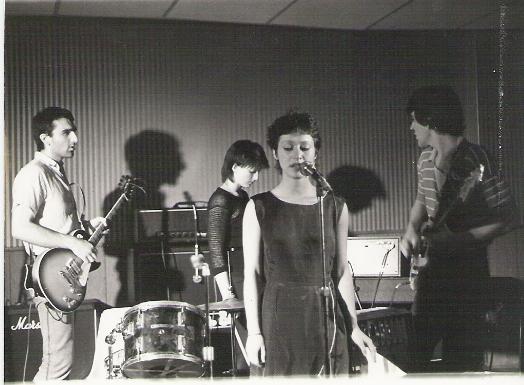 The Take, 1979 - Source: Alan Bamford
THRUSH AND THE CUNTS: Denise Rosenberg, Jules Taylor, Marion and Marissa Stirpe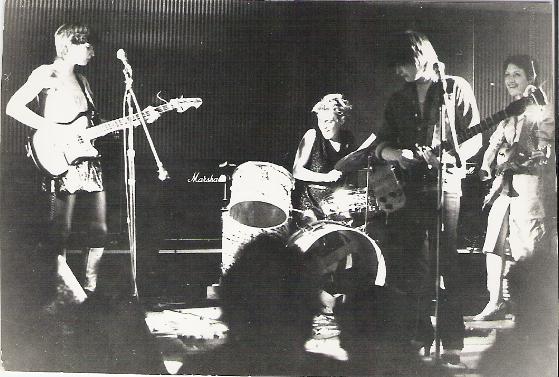 Thrush and the Cunts, 1979 - Source: Alan Bamford
TOO FAT TO FIT THROUGH THE DOOR: Marie Hoy, Marcus Bergener, Michael Buckley, Ollie Olsen, Tom Hoy, Dave Light and Stuart Grant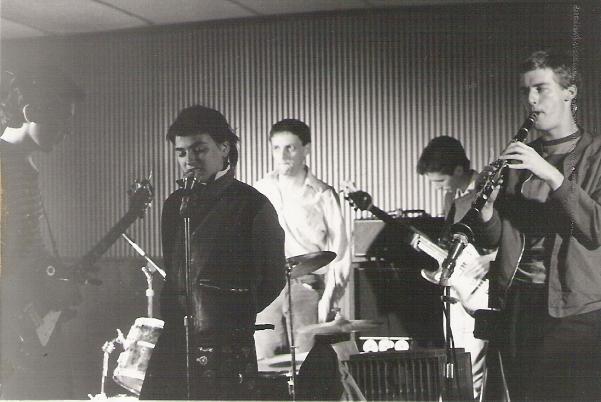 Too Fat to Fit Through the Door, 1979 - Source: Alan Bamford
Images:
Main Image - The North Fitzroy Beat, 1980 - Source: Alan Bamford
Background Image - Little Bands poster, 1979 - Source: Alan Bamford
Champion Hotel, Fitzroy 1979 - Source: Timothy Hughes
Alan Bamford & John Murphy, 1979 - Source: Alan Bamford

Groper, 1979, mixing at the Ballroom - Source: SKMWT

Little Bands EP, front cover and insert, 1979 - Source: Alan Bamford

The Paradise Lounge flier, 1980 - Source: Dolores San Miguel
Killayoni Club, 1981 - Source: Kate Buck
Thrush and the Cunts review, Dogs in Space - Source: Required

ABME, 1979 - Source: Alan Bamford

Hoy Family Swingers, 1979 -

Source: Alan Bamford



Ronnie and the Rhythm Boys,

1979

-

Source: Alan Bamford




Sample Only, 1979 -

Source: Alan Bamford




The Beaumauris Tennis Club Quartet, 1980 - Courtesy of Angela Adams

The Delicatessens, 1980 - Source: Angela Adams

The Incredibly Strange Creatures Who Stopped Living and Became Mixed Up Zombies, 1980 - Source: Kate Buck

The Pastel Bats, 1980 - Source: Angela Adams

The Persons Brothers, 1979 - Source: Alan Bamford

The Take, 1979 -

Source: Alan Bamford



Thrush and the Cunts,

1979 -

Source: Alan Bamford




Too Fat to Fit Through the Door, 1979 -

Source: Alan Bamford
PDF:
Little Bands gig list, 1980 - Compiled by Jim Buck

The Little Bands Archive, 2004 - Written by Alan Bamford
MP3:
Quotes:
John Murphy (Whirlywirld) - Source: 'Excerpts of

Stranded

' by Clinton Walker, p.68

Stuart Grant

(Primitive Calculators) -

Source: 'Excerpts of Stranded' by Clinton Walker, p.68

Alan Bamford - Source: Personal interview

Roland & Crusader (The Delicatessens) - Source: Personal interview

Jim Buck - Source:

Personal interview

Kate Buck -

Source:

Personal interview