ABOUT THIS PROJECT:
'The History of the Melbourne Punk Scene' is an in-depth historical account into the first 10 years of the Melbourne (Australia)Punk scene - from it "Punk" inception in 1977 until what I consider the end of the Hardcore era in 1987. Utilizing a combination of historical facts, interviews and quotes as well as archival images, this website is a multimedia experience of the punkest kind.

The idea for this project came about in 2004 when I decided I wanted to capture all of the style, colour and attitude of the contemporary Melbourne Punk scene, and so I bought myself a camera and started taking photos at Punk gigs and events around town. The result of this is a vibrant body of work titled 'Punk a Photographic Journey: 2004 - 2007.'

Documenting the contemporary Melbourne Punk scene really piqued my interest about the historical background of Melbourne Punk; the bands and individuals who paved the way for what Punk is known as today. I soon began doing some research and, to my surprise, discovered that there was an amazing amount of information available, albeit in various formats. My job, I decided, was to culminate all of the various sources of information that existed into one concise historical document - and thus 'The History of the Melbourne Punk Scene' was born.
So with task in hand, I knew that if I was going to uncover the hidden treasures of this historical subculture, that I would need to go back to the source itself - its original participants - assuming they were still alive and prepared to share. After all here was I, a complete stranger and unknown entity, asking other complete strangers to dig into the attics of their punk minds share their most intimate stories, images and sounds with me. A big ask indeed!

But armed with the right amount of "Dutch Courage" and a voice recorder, I was soon phoning, interviewing, and meeting with key figures from the original Melbourne Punk scene, and before I knew it this project was quickly taking on a life of its own. In undertaking this ambitious project however, little did I realize that I would be doing more than just a bit of light-hearted digging - no as it was to turn out I was to end up doing some pretty heavy excavating.

Fortunately for me along the way I have met some amazing people who I never would have crossed paths with if it were not for this project. And being in the privileged position of hearing so many wild and wonderful memories, I knew that I would need to take the good with the bad, the joy with the tears, and keep an open mind about what I was hearing while at the same time respecting the teller and the tale.


This project has also given me a deeper understanding and appreciation of what I once believed to be 'Punk'. In the beginning I fell in love with Punk because of the 'Punk aesthetic'; the Mohawks, the studs and jackets, as well as the music and the tough 'who gives a fuck' attitude! But since talking to so many people I have realized that there is a deeper and more subtle side to punk. One that I hope you, the reader, will also come to understand and appreciate.
And on that note, for all of you 'Punk Purists' out there who believe that Punk officially ended in 1977*, The Exploited and I are here to disagree. I believe that the origins of Punk - the attitude, the music and the image never ended, they were simply remodelled and reinvented by the next generation. And while it is true that a period of time in history cannot be recaptured or recreated, no matter how hard later generations may try, I believe that from Proto-Punk to Glam-Punk to UK Punk to Hardcore Punk to Skater Punk to Metal Punk - Punk always was, always is and always will be.

While the focus of this project is predominantly on the history of Melbourne Punk, we have always been influenced by trends set in the USA and the UK. Therefore, from time to time, I have referenced back to the Punk scenes from these countries as a historical tool and a way to introduce each phase of the Melbourne Punk scene.

In conclusion, the main aim of this project is for the history of the Melbourne Punk scene to be represented in a non-biased and factual manner, while capturing the era in a creative, educational and exciting way.

This project was always meant to be a work of art - a beautiful creation where photos, music, fliers, footage, memories, and stories are weaved together to create a wonderful multimedia menagerie of Punk and tell a story - that of the Melbourne Punk Scene - a period in time which was unique and special to those who lived it.

I hope you enjoy the journey as much as I have.

Melynda von Wayward.



ABOUT THE PROJECT CREATOR:


Melynda von Wayward has had a love of punk music and fashion since 1988, and knew from the moment that she saw her first Mohawk on her first Punk rocker that she was in love. Some 20 years later, she finds herself researching and writing the history of the Melbourne Punk Scene.
Melynda graduated from the Victorian College of the Arts in 1996, with a BA in Technical Production in Theatre. Since then she has not only completed Postgraduate degrees in Arts Therapy and Arts Management, but has gone on to re-invent herself as a freelance Photographer, historian, writer and all-round Artiste who enjoys creating her own projects.
Her biggest creative project to date however has been becoming the Mother of one very gorgeous and vibrant little boy named Thaddeus.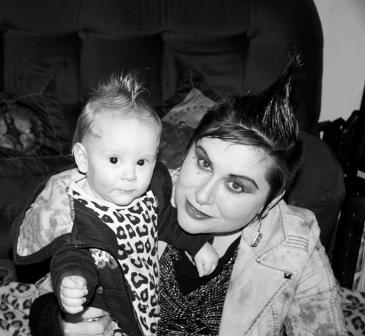 REFERENCES:
Main Image - Thrashout Fanzine #1 - Courtesy of Peter Mcgrath

Background Image - JAB montage 1977/78 - Photo by Tanya McIntyre, courtesy of Bohdan X

*One of the first books about punk rock — 'The Boy Looked at Johnny' by Julie Burchill and Tony Parsons (December 1977) — declared the Punk movement to be already over: the subtitle was 'The Obituary of Rock and Roll'. http://en.wikipedia.org/wiki/History_of_the_punk_subculture