THE BOYS NEXT DOOR
The earliest incarnation of The Boys Next Door was formed in 1974 by Nick Cave, Mick Harvey and Phil Calvert while they were attending Caulfield Grammar School outside of Melbourne. Other students - John Cocivera, Brett Purcell and Chris Coyne also joined the band for a short period of time and played under various names at parties and school functions with a mixed Pre-Punk repertoire. After their final school year in 1975 the band decided to continue as a four-piece group with Tracey Pew on Bass, and with the addition of Rowland S. Howard on Guitar in 1978, the band had solidified the line-up that would become The Birthday Party, to which they changed their name and moved to the UK in 1980. The initial influence was 60's pop and 70's glam rock, but the band developed a much darker side, which was cemented with the addition of Roland S. Howard's distinctive guitar sound and songwriting abilities to the band. By 1978 they had already become one of the best outfits around, with the recklessness of their live shows and apparent lifestyle garnering them a substantial following.

Their first release was in 1978 with their single 'These Boots are made for Walking'/'Boy Hero',and along with 'Masturbation Generation' were also put out on the 'Lethal Weapons' album by Suicide Records (1978). The LP was recorded on 19 August 1977 at Swinburne College in Melbourne, and came out in 1983 on cassette. In 1979 The Boys Next Door also recorded and released one album 'Door, Door' which was very much a transitional album. Being dismissed as sounding too poppy by the band, as around this time they were moving towards the more abrasive sounds of contemporary Post-Punk, the album's final song and single, 'Shivers', was refused air play for its mention of suicide in the first line and served as an indication of the more sinister, dark direction the band was headed. As their going away present the band played a finale gig at the Crystal Ballroom in 1980 and released a limited edition single, 'Riddle House' with only 750 copies being issued.

The Boys Next Door headed for London in 1980, changed their name to The Birthday Party and launched into a period of innovative and aggressive music-making.
The Boys Next Door line-up included: Nick Cave - Vocals, Mick Harvey - Guitar, Rowland S. Howard - Guitar, Phil Calvert - Drums, Tracey Pew - Bass.
The Boys Next Door - Somebody's Watching.mp3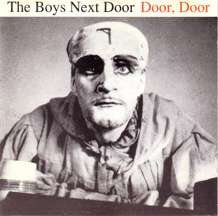 'Door, Door' album sleeve 1979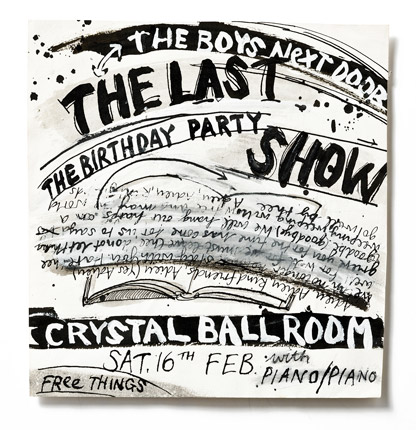 The last Boys Next Door gig 1980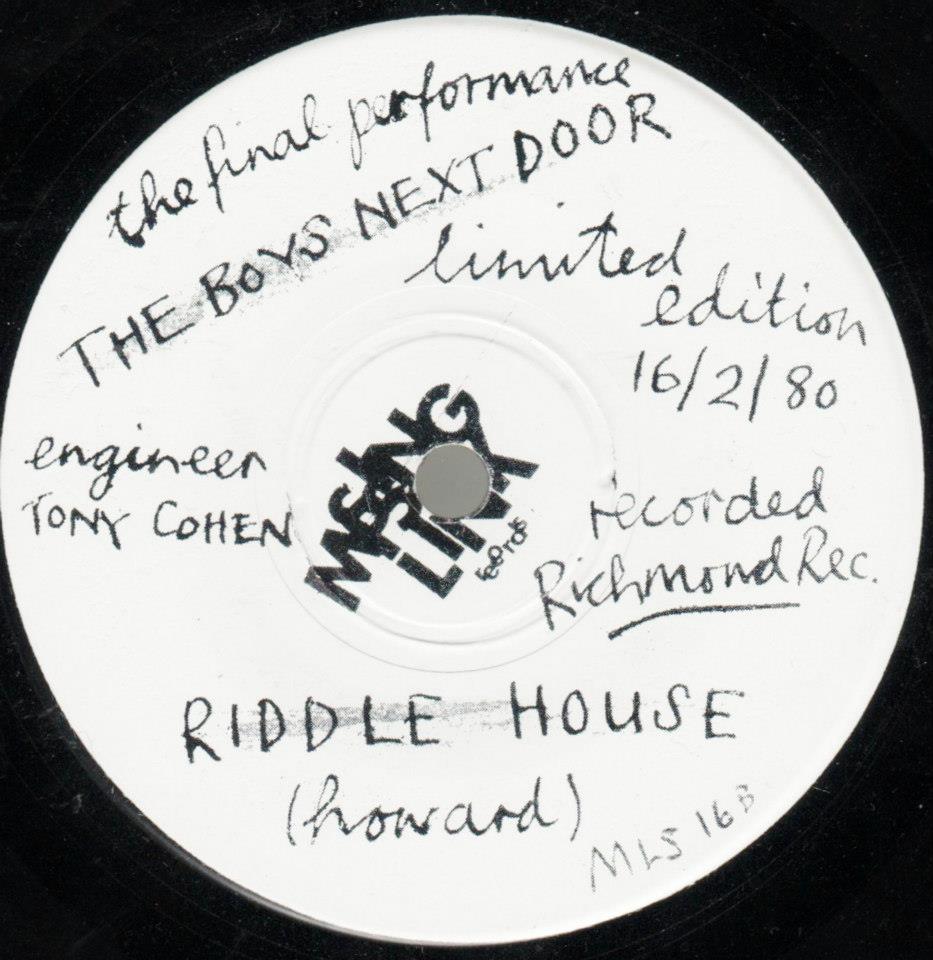 'Riddle House' single 1980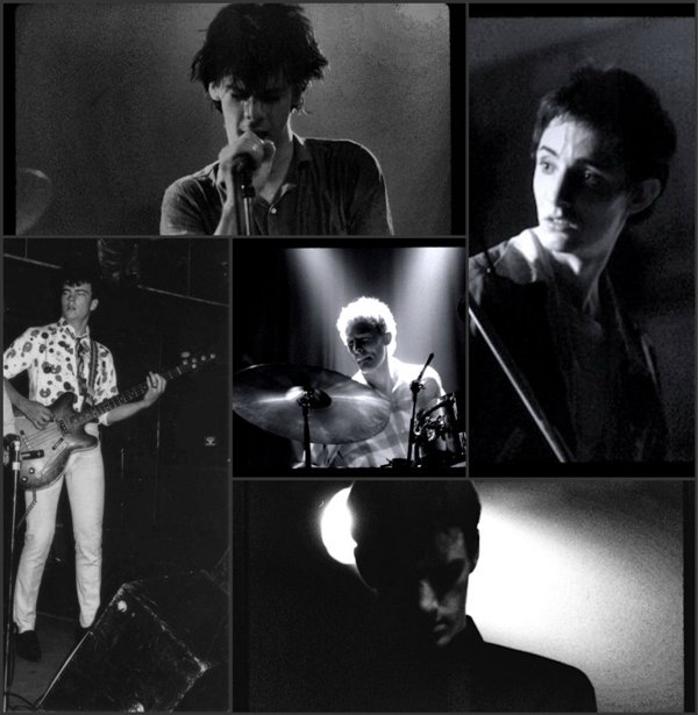 The Boys Next Door 1979/80 - Photos by Anne Jordan & Joe Murray

REFERENCES:
Main Image -

The Boys Next Door 1978/79 - Courtesy Tumblr
Background Image - The Boys Next Door set list - Courtesy of Debbie Nettleingham
Nick Cave 1977 at Swinburne College - Photo by Peter Milne - Courtesy Tumblr
The Boys Next Door 1978 - Photo by Peter Milne - Courtesy Last FM
'Door, Door' album sleeve 1979 - Courtesy Wikipedia


The last Boys Next Doors gig 1980 -

Courtesy of WA Museum from 'Nick Cave The Exhibition'

'Riddle House' single 1980 - courtesy of Timothy Hughes


Nick Cave,

Rowland S. Howard,

Mick Harvey, Phil Calvert, Seaview Ballroom 1979/80 - Photos by Anne Jordan

Tracey Pew, Bananas 1979 - Photo by Joe Murray
MP3 Track - 'Somebody's Watching' - 'Door Door' Album 1978 (Cave

Nicholas

Edward)

Video - The Boys Next Door live at the Tiger Lounge 1979 - Courtesy Youtube