Forming in 1977, Proles were part of the first wave of Melbourne punk bands and also the youngest. Their name was inspired by a sign in Carlton's famous Twins hamburger joint stating "Late night food for the Proles". The band played predominantly all original material in the vein of Ramones, even adopting leather jackets as their mode of dress, and gained a loyal following with there cutting tight sound. Original songs such as 'Kangaroo Hop', 'Police', and 'Grin and Bare It' were crowd favourites, and in 1978 Proles recorded their one and only single featuring 'Police' and 'Underaged'. Produced by Paul Gruyters and co-funded by Darren Smith it was recorded at York St Studios in North Fitzroy - the first single to be recorded at that studio. It was not released however until 31 Dec 1979, making it officially the last punk record of the 1970's to be released, with a limited pressing of only 250.
Working extensively with contemporary bands like News, Fiction, Young Charlatans and La Femme, the band played at the seminal punk event 'Punk Gunk' in 1977, as well as several University gigs. They also had short residencies at venues such as Bernhardts and The Sydenham Hotel. Proles joined News in the graffiti onslaught of '77 which saw inner city Melbourne covered in both bands names. After the bands break up in 1979 Darren Smith went on to form Zorros with Nic Chancellor (a long time friend and fan), whilst Paul Gruyters, who adopted the name 'Prole' went onto create the band Article which played until 1983.

Proles lineup included: brothers Darren Smith - Guitar (17), Wayne Smith - Drums (15), Mark Chrisfield - Vocals (17), and Paul Gruyters - Bass (17).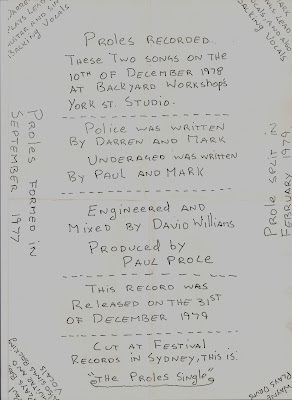 Images:
Main Image - Proles, 1977/78 - Source:

Paul Prole

Background Image - Proles / Fiction gig flier - Source: Paul Prole

'Police' single insert, 1978 - Source:

Wallaby Beat

Proles gallery, 1977 - 1978 - Sources: Gavin Quinn,

Paul Prole

and Wallaby Beat
MP3:
'Police', 1977 single - Independent release (Smith/Chrisfield)
Websitea: