Formed in 1979, Rob Griffiths named his band Little Murders after a 1971 film directed by Alan Arkin and starring Elliot Gould. As an English expatriate, Griffiths embraced 1960's English pop culture (The Who, The Troggs, The Kinks, Union Jacks draped over amplifiers) and accordingly Little Murders became the premier Mod band on the late 1970's/early 1980's Melbourne independent scene.
The band's debut single, 'Things will be different'/'Take me I'm yours', on Au-go-go Records (December '79) was actually recorded by Rob's old band Fiction, prior to the formation of the first Little Murders line-up. 'Things will be different' was an excellent debut single, a blast of punchy, danceable pop, and it rapidly sold out its pressing of 1000 copies.
'Things will be different' ranks alongside The Riptides' 'Sunset Strip' and Young Modern's 'She's got the money' as one of the classics of Australian new wave power pop. By May 1980 the band had again changed line-ups and two further singles for Au-go-go followed: 'High School'/'Trouble With Love' (which featured Clint Small) and 'She Lets Me Know'/'It's Over'.
Line-up changes plagued Little Murders for the next couple of years however, and unable to secure a major record deal for his efforts, Griffiths eventually broke up Little Murders in December 1983. In 1997 a compilation CD titled '... and stuff like that' was released through Cannon Music, in 1998 a CD titled '10,000 Guitars' was released through Swerve Records and in 2009 a retrospective album titled 'Stop! Plus Singles: 1978-1986' was released through Off The Hip Records.
The original Little Murders line-up included: Rob Griffiths - Vocals/Guitar, Clint Small - Guitar/Vocals, Ken Hamilton - Bass, Rob Wellington - Guitar, and Rod Flegg - Drums. Other members included: Stuart Beatty - Guitar, Steve Fusezi - Bass, Kim Holmberg - Guitar/vocals, Paul Holmberg - Drums Alan Brooker - Bass, Rod Hatward - Guitar , Chris Hunter - Bass, Michael Barclay - Drums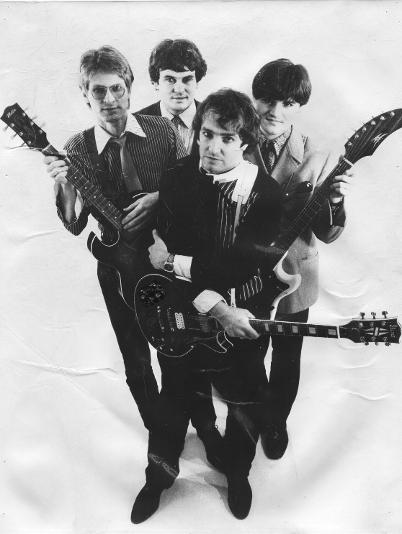 Little Murders, 1979 - Courtesy of Rob Griffiths

Little Murders - Take me I'm Yours.mp3
Main Image - Little Murders 1979 -

Courtesy

of Rob Griffiths

Background Image - Little Murders collage - Courtesy of

Rob Griffiths

Little Murders

1978/79

-

Courtesy of Rob Griffiths

'Things Will Be Different' single sleeve 1979 - Courtesy of

Rob Griffiths

Little Murders Poster -

Courtesy

Rob Griffiths

Rob Griffiths, Steve Fusezi, Rod Flegg & Stuart Beatty - Photos courtesy

of

Rob Griffiths

MP3 Track - 'Take Me I'm Yours' 1979 - Au Go GO Records (Griffiths/Wellington)

Video - 'Things Will Be Different' 1979 footage of Mods

McFarlane, Ian (1999). The Encyclopedia of Australian Rock & Pop, p.369-370: Allen & Unwin
Links: