THE CHOSEN FEW
Coming from Hastings on the Mornington Peninsula, The Chosen Few had its origins in a heavy-metal band called Deathwish, which played its first gig in August 1976 (the name The Poofter Bashers was also considered). Deathwish changed its name to The Chosen Few in late 1977 and lasted until April 1979. The Chosen Few played a lot of gigs at the few Punk venues that existed in Melbourne from 1976. The band later became Bohdan and the Instigators when ex-JAB frontman Bohdan X joined. In August 1978 the band released a 6 track 7inch EP called 'The Joke's On Us'. Described as "The only genuine Melbourne Punk record issued in 1978", the EP was recorded at a studio on Smith Street, Collingwood with only 500 copies printed. 'The Joke's on Us' featured six original tracks - the title track and five other classic Chosen Few punk tunes, including 'Disco Tek Wrek', which was dedicated to Radio Birdman's Deniz Tek. These tracks were heavily influenced by bands such as MC5, Stooges, Ramones and Blue Oyster Cult, plus Australian legends such as Lobby Loyde and The Coloured Balls and The Saints. Two LPs were subsequently released: 'Do the Manic' and 'Really Gonna Punch You Out'. There was also a compilation CD 'A Root and a Beer' released by Au Go Go Records in 1999.
For more info on The Chosen Few click HERE
The Chosen Few line-up included: Ian Weaver - Vocals, Bruce Friday - Guitar, Ian Cunningham - Bass, Cal McAlpine - Drums.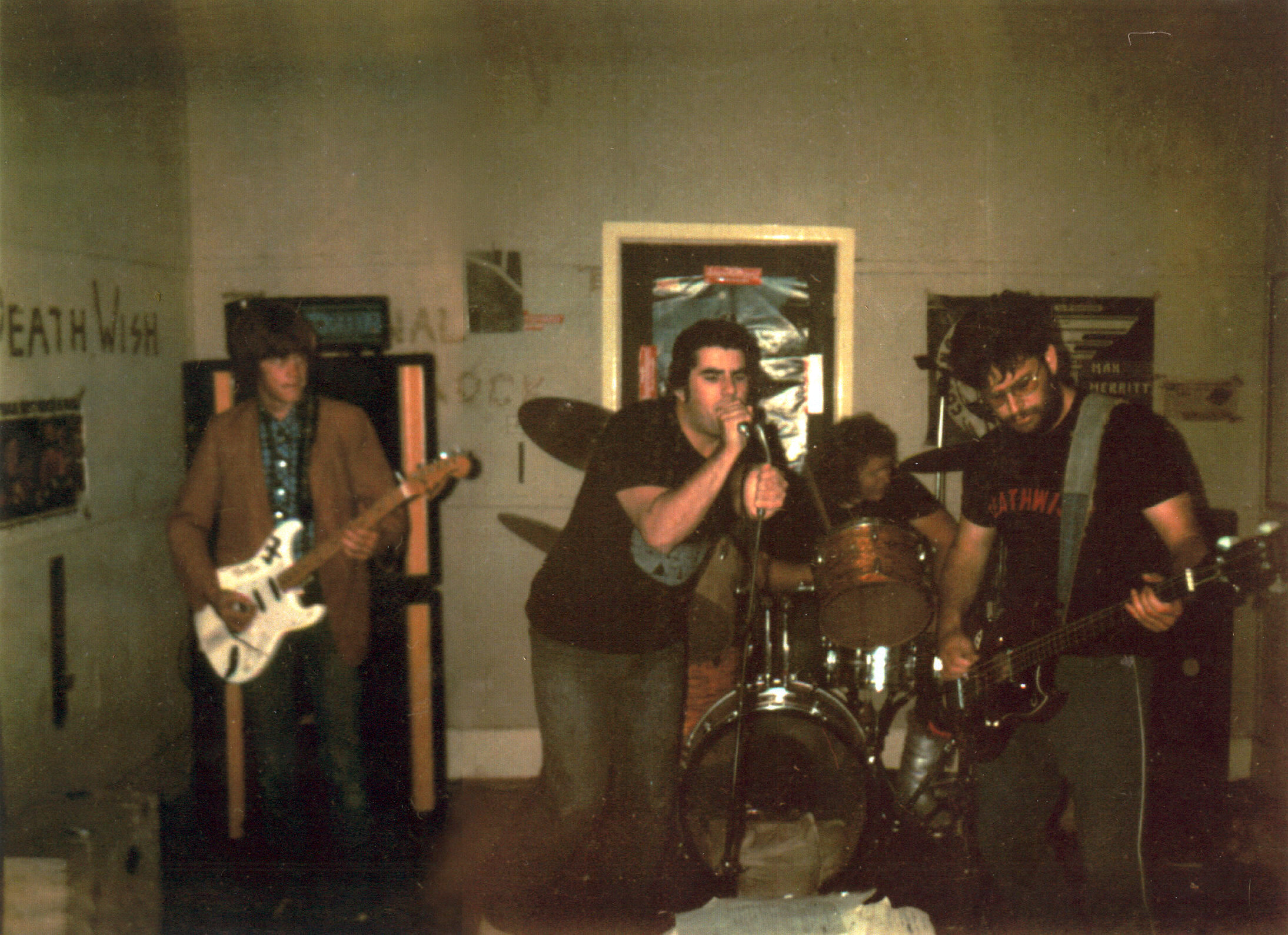 Tbe Chosen Few 1977/78 - Courtesy of Ian Cunningham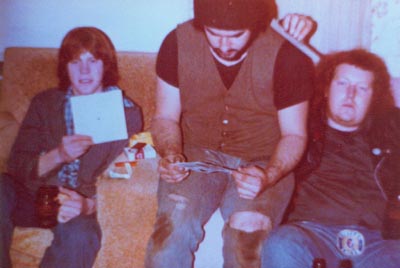 The Chosen Few 1977/78 - Courtesy of Ian Cunningham
The Chosen Few - Do The Manic.mp3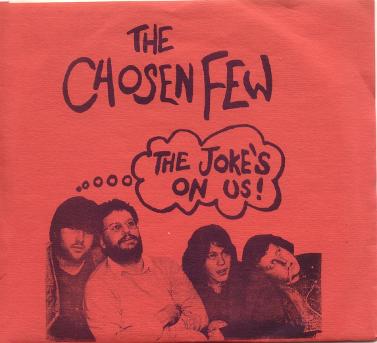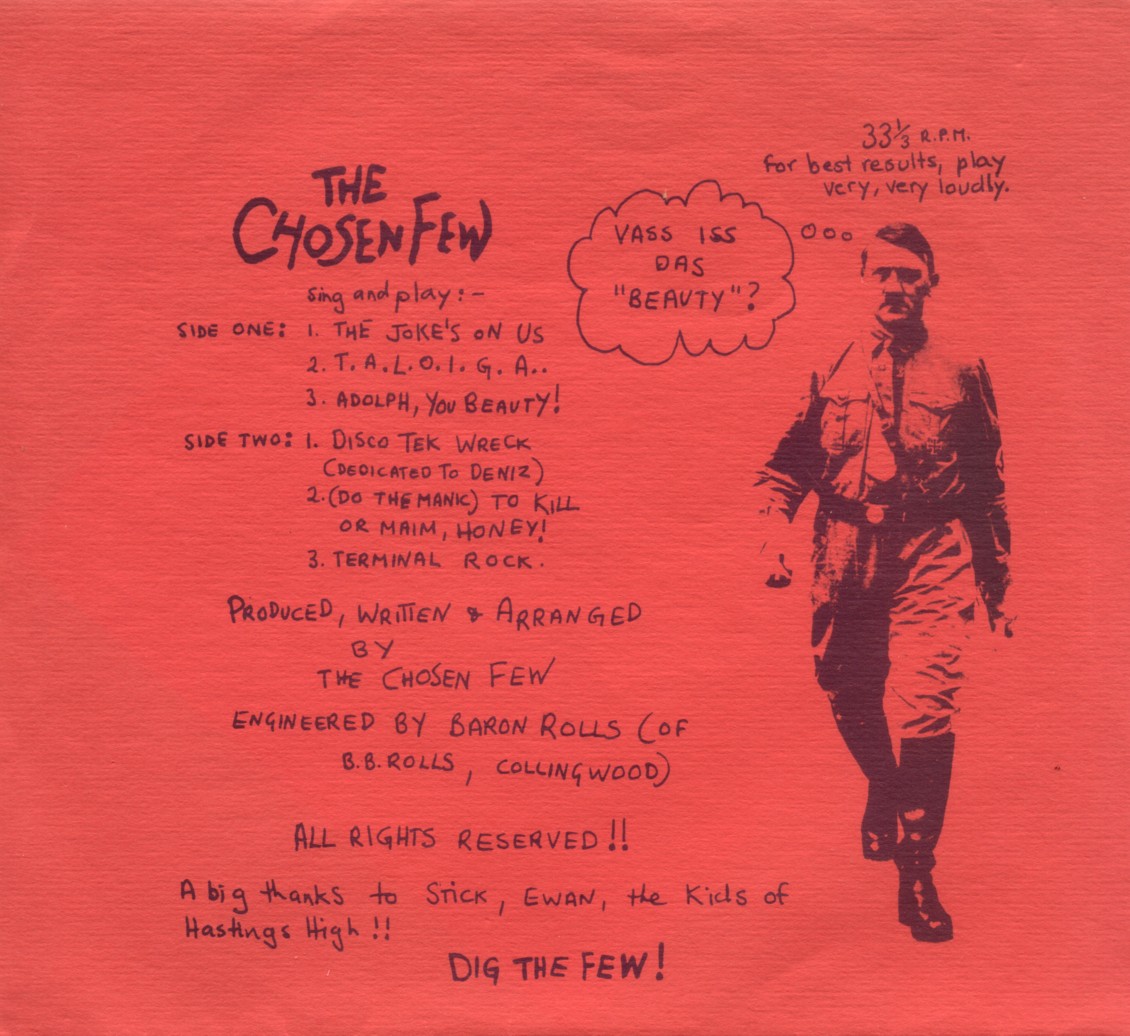 'The Joke's on Us' EP sleeve 1979
REFERENCES:
Main Image -

The Chosen Few - from the 'A Root and a Beer' CD - Courtesy of Ian Cunningham

Background Image - 'Do the Manic' promotional image -

Courtesy of Ian Cunningham

The Chosen Few band rehearsal 1977/78

- Courtesy of Ian Cunningham
The Chosen Few group shot 1977/78 - Courtesy of Ian Cunningham
'The Joke's on Us' EP sleeve 1979, front and back -

Courtesy of Ian Cunningham

MP3 Track - 'Do the Manic' - 'The Joke's on Us' EP 1978 (Cunningham)



McFarlane, Ian (1999), The Encyclopedia of Australian Rock & Pop, pp.120 - 121,

Allen & Unwin