James Freud and Sean Kelly were school friends, and both shared an interest in the current music scene. Freud and Kelly initially played together in a school band called Sabre (alongside drummer Ian McFarlane). After hearing the Sex Pistols' song 'God Save the Queen' in 1977, and with a residual love of glam-rock, Freud and Kelly formed a full time band at the first opportunity upon leaving school (Freud was 16, Kelly was 18). They recruited bassist Graham Schiavello, and drummer Peter Kidd, and dubbed themselves Spred. After first performing together at a birthday party for James Freud's sister, Spred played their debut professional gig on New Year's Eve 1977 alongside fellow punk-rock outfits Babeez, and The Boys Next Door. The occasion was labeled 'Punk-Gunk', and the venue was a prestigious footpath, in the Melbourne suburb of Carlton.

By January 1978, Spred had been re-dubbed Teenage Radio Stars (well they were still teenagers, and aspiring radio stars), and recruited a new rhythm section, comprising Pierre Voltaire on bass, and Dave Osbourne on drums. Soon after, this new line-up signed with the Suicide label, adding 2 tracks 'Wanna Be Ya Baby'/'Learned One' to the 'Lethal Weapons' album compilation (1978). 'Wanna Be Ya Baby'/'Sweet Boredom' was also released as a single in April 1978 through Suicide and, although credited to James Freud and Sean Kelly, it was actually a reworking of the song 'Baby Baby', by British punk band The Vibrators.
The release of this single earned Teenage Radio Stars a slot on the ABC's Countdown - an opportunity much valued by up and coming acts - and alongside label mates The Boys Next Door, Teenage Radio Stars were paving the way for future post-punk/new wave artists to break into the commercial mainstream. Shortly after their Countdown appearance, the line-up had changed to Freud, Kelly, Mick Prague (bass), and Mark Graeme (drums). Previous bassist Pierre Voltaire had elected to hook up with JAB, though it would prove a short lived association, as the band were entering their death throws. Meanwhile, previous drummer Dave Osbourne went on to play with popular pub rockers Fastbuck. By August of 1978, Sean Kelly and James Freud found themselves on different musical frequencies, and Kelly parted ways with the Teenage Radio Stars to form Models.

Tony Harvey came on board to replace Sean Kelly, and since none of the band's members were any longer in their teens, Freud opted to shorten the band's name to The Radio Stars, followed soon after by James Freud's Ego. Neither new moniker evoked any sense of positive direction for the band, and by the end of 1978, Freud had taken the decision to break-up the band. By early 1979, with ex-members of band Colt, he formed James Freud & the Radio Stars. They signed with Mushroom Records and their debut single, 'Modern Girl' was released in May 1980, which peaked at No. 12 on the Australian Singles Chart. In 1981 Freud disbanded the group and by the beginning of 1982 he had rejoined Sean Kelly in his band Models.
Teenage Radio Stars original line-up included: James Freud - Vocals/Guitar (real name Colin McGlinchey), Sean Kelly - Guitar/Vocals, Graham Schiavello - Bass, Peter Kidd - Drums.
The second line-up included: James Freud - Vocals/Guitar, Sean Kelly - Guitar/Vocals, Pierre Voltaire (real name Peter Sutcliffe) - bass, and Dave Osbourne - drums.
The Third line-up included: James Freud - Vocals/Guitar, Sean Kelly - Guitar/Vocals, Mick Prague - Bass and Mark Graeme - Drums.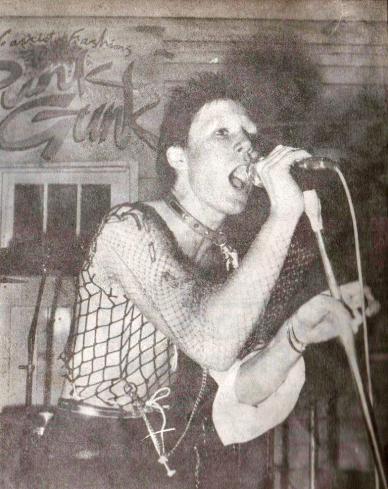 James Freud, Spred, 1977 - Source: Timothy Hughes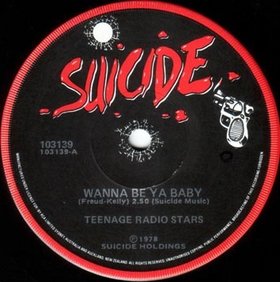 'Wanna Be Ya Baby' single, 1978 - Source:
Discogs
Teenage Radio Stars - Sweet Boredom (1978).mp3
Images:
Main Image - Teenage Radio Stars, 1978 - Source:

Last FM
James Freud, Spred, 1977 - Source: Timothy Hughes


'Wanna Be Ya Baby'

single, 1978

- Source Discogs

Teenage Radio Stars photo gallery, 1978 - Sources: Last FM and Pierre Voltaire
MP3:
'Sweet Boredom', 1978 - Suicide Records (Mushroom Records)(Freud/Kelly)
Video:
'Wanna Be Ya Baby', 1978 - Source:

Youtube - INgrooves (on behalf of Aztec Music); BMG Rights Management (US), LLC, and 5 Music Rights Societies
Publications:
McFarlane, Ian (1999). The Encyclopedia of Australian Rock & Pop, pp.629-630: Allen & Unwin
Websites: