X-RAY-Z is recognized as one of Australia's pioneering new wave outfits. The band had its roots in Adelaide pub band Rufus Red, but sensing a change in the musical climate the band adopted a 'poor image', renamed themselves X-Ray-Z and moved to Melbourne in early 1977. Here they set about establishing an identity on the inner-city pub circuit. The first single put out by X-Ray-Z in 1978 had three songs, 'Poor Image', 'Sledgehammer Hit' and 'Citizen John'. These tracks plus one other titled 'Kodak Moments' were recorded as demos and released as a Maxi-Single in 1978. ('Kodak Moments' was omitted and therefore not mastered.)
In early 1978, X-Ray-Z had signed to Suicide Records and contributed 'Three More Glorious Years' (vintage diatribe against the Fraser Government) and 'Valium' to the 'Lethal Weapons' album (1978). By the end of 1978 X-Ray-Z had mutated into Popgun Men.
X-RAY-Z line-up included: Peter Rich - Vocals/Sax (real name Peter Doley), Mike D'Art - Guitar/Keyboard (real name Martin Doley), James Wave - Bass (real name James Lloyd), Jon Ray - Drums (real name Jon Wilkinson).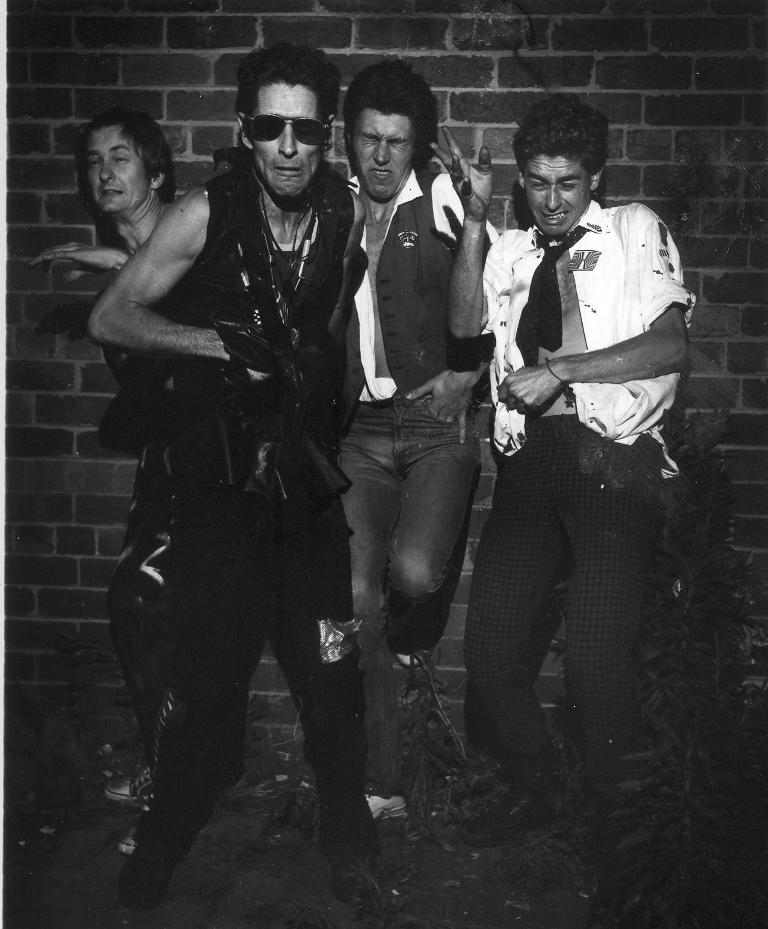 X-RAY-Z, 1977/78 - Photo by Carole Wilkinson

Images:
Main Image - X-RAY-Z insert, 1978 - Source: Required

Background Image - X-RAY-Z image from the Lou Reed tour program, 1977 - Source: Kenneth Lyons
X-RAY-Z 1977/78 - Photo by Carole Wilkinson

X-RAY-Z photo gallery, 1977 - 1980 - Sources: Carole Wilkinson and Greg Noakes

X-RAY-Z promo gallery, 1977-1978 - Sources: Carole and Jon Wilkinson, Gavin Quinn, Rose Tattoo fan page and Kenneth Lyons
MP3:
'Three More Glorious Years',

1978

-

Suicide Records (

Mushroom Records)(Rich)
Publications:
McFarlane, Ian (1999). The Encyclopedia of Australian Rock & Pop, p.694: Allen & Unwin
Websites: