THE FABULOUS MARQUISES
The Fabulous Marquises was formed in 1980 by ex-JAB, Teenage Radio Stars and Models Bass player 'Mr Pierre'. The band had a sparse and electronic sound and a solitary single, 'Honeymoon'/'1,2,3, Factory' was issued in September 1980. The single was initially included as part of the Unforgettable Music Box Set of three singles, alongside Ron Rude's Piano Piano and Microfilm. Ron Rude (head of the Unforgettable Music label) produced The Marquises' single and also included the Marquises' track 'From My Heart to My Hands' on the Various Artists album 'From Belgrave with Love' (1981). Edward Clayton-Jones was later in The Wreckery and Chris Walsh later joined The Moodists.

Fabulous Marquises lineup included: Mr Pierre (real name Peter Sutcliffe) - Vocal/Guitar, Edward Clayton-Jones - Guitar/Synth, Chris Walsh - Bass (ex-Reals/Negatives), James McNabb - Guitar /Saxaphone, Des Hefner - Drums (ex-Marching Girls). Katherine Denney - Piano/Organ was also in the lineup.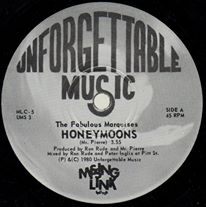 The Fabulous Marquises single 1980

Fabulous Marquises - 123 Factory23.mp3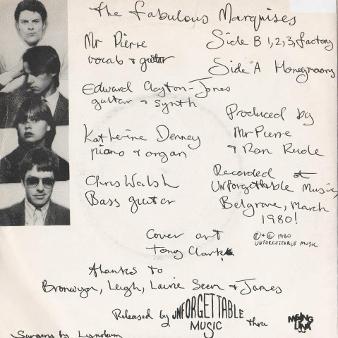 The Fabulous Marquises single sleeve 1980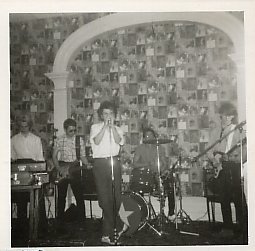 The Fabulous Marquises live 1980 - Photos by Debbie Nettleingham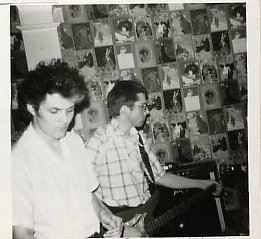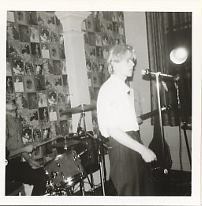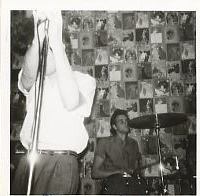 REFERENCES:
Main Image - The Fabulous Marquises poster 1980 - Courtesy of

Debbie Nettleingham &

Last FM
Background Image - The Fabulous Marquises single sleeve 1980 - Courtesy of Timothy Hughes
The Fabulous Marquises single 1980 - Courtesy of Timothy Hughes
The Fabulous Marquises single sleeve 1980 - Courtesy of Timothy Hughes

The Fabulous Marquises live 1980 - All photos

by Debbie Nettleingham

MP3 Track - '1, 2, 3 Factory' 1980 - Unforgettable Music (Sutcliffe)

Video - 'Honeymoons' 1980, Directed by Brett Houghton - Courtesy Youtube